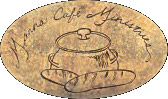 Clarksville, TN – Kenny York, Founder and Director of Manna Café Ministries, will be spending the next two weeks as a homeless man in an effort to bring increased awareness and compassion for the homeless.

He and the Manna Café team are increasing their efforts to launch a full-time transitional shelter in Clarksville, even though homelessness is "a silent epidemic" in this fast-growing community.

York's goal is "to be a voice for the voiceless" and "to give a face to an invisible population."

His plans for the "Prove It Movement" include residing in an outdoor, undisclosed location and frequenting various street corners in Clarksville with a sign that reads, "Do you care? Prove it."

York explains, "It's time for Clarksville to come together and show that we care about our citizens who need a 'hand up.'" Find out more at the Manna Café website, www.mannacafeministries.com or at www.ProveItClarksville.com where York will be chronicling his experiences from July 14th–28th.

Manna Café Ministries is a faith-based organization devoted to meeting the needs of homeless and low-income families in Montgomery County via hot meals, food boxes, and emergency shelter. In 2014, the organization distributed 1.3 million pounds of food to the hungry and provided beds for fifty-plus individuals via a warming shelter during the winter season.



Sections
News
Topics
Clarksville, Clarksville TN, Homeless, Kenny York, Manna Café Ministries, Montgomery County, Prove It Movement