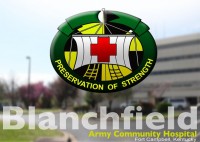 Fort Campbell, KY – Blanchfield Army Community Hospital (BACH) earned the Army's Safety and Occupational Health "Star Status" designation for safety following an on-site review May 27th-30th.

"Workplace safety is critical for organizations across the Army; however it is especially critical in a medical environment," said BACH commander Col. George N. Appenzeller. He explained that worksite safety helps ensure employees and patients are protected from a variety of potential serious hazards in clinical operations.

BACH's safety team consistently works with hospital employees to ensure they understand and can address worksite safety processes at all levels.

BACH safety manager Tim Edwards felt confident that the Fort Campbell medical personnel were ready for the Army Medical Command's Safety Management System (MS2) audit.

"Our staff members are cognizant of worksite safety. My safety partner Chris Lee and I routinely visit all areas of the medical services to observe practices used within both clinical and facility maintenance; therefore we understood that BACH personnel were ready for the audit," said Edwards.

Edwards reached out to the Department of Defense and Army Medical Command's Safety Management Center of Excellence teams in February 2014 requesting that they visit the Fort Campbell hospital to ensure hospital safety practices were in line with national and Army Medicine standards.

By reaching out, BACH leadership positioned the organization to become the first Army Medicine facility within the continental United States to receive Star Status. There are currently eight Star Status sites throughout Army Medicine, seven in Europe and one in Korea.

Army Surgeon General Lt. Gen. Patricia Horoho instituted a concept of operations in 2012 requiring all organizations within MEDCOM led by a Colonel and below to go through this audit and review processes to ensure Army medical facilities maintain a culture of safety. As the pilot for the Army, the concept of operations will be enacted throughout all Army programs over the next year.

To achieve Star Status, organizations must complete three stages of assessments focused on management leadership and employee involvement, worksite analysis, hazard prevention and control, and safety and health training.

"This program allows employees to take ownership of the safety within their workplace, including patient safety as well as their own safety and that of fellow employees," said George LeFevre, the Army Medical Command Safety Management System Program Manager.

The DoD and MEDCOM audit team spoke with BACH personnel at all levels to better understand the staff's perception of safety within the organization. The audit team visited all main patient areas and facilities of the hospital, including healthcare facilities supported by Blanchfield both on and off post.

"Aligning BACH safety standards with the national and MEDCOM standards helps ensure that our hospital personnel are maintaining the most effective safety practices and procedures in the workplace, which positively impacts patient care," said Appenzeller.

The Army Safety program is typically a commander's program.

"Across the Army and Army Medicine, we're changing the culture of safety from a command-led program to one where everyone has a voice," said LeFevre.

LeFevre said that for the program to work, employees must understand the hazards of the workplace, knowing how they can mitigate those hazards and, most importantly, how they can be most effective in fixing hazards.

After the audit team's final briefing to the BACH command team May 30th, LeFevre said, "Not only is this the first continental United States site, but it's the first community hospital to complete the entire process and receive Army Safety and Occupational Health Star Status recognition."

According to LeFevre, "The audit process is a validation of the work the organization has already done to implement a culture of safety." The Army Medical Command's safety program is based on the Occupational Safety and Health Administration (OSHA) standards with adjustments to better fit Army Medicine.

It is now the MEDCOM Safety Management System (MS2) with four components; the management commitment and employee involvement, worksite analysis, hazard prevention and control as well as safety training.

LeFevre said, "We look at all four components; when we talk to people we look to see if the culture of safety is effective and if it is getting down to every level."

The process is a structured approach building up to the final audit.

"It's a three-stage program that typically takes three years with a final audit," said LeFevre. "BACH completed each stage in the program within 14 months," said LeFevre.

After an organization completes all three stages, the outside audit team then performs the final review.

To determine if the program is successful, the safety audit team observes if the safety themes, knowledge and implementation has spread across the entire organization.

"We found that BACH employees not only know about the culture of safety, but they have also taken ownership of it," said LeFevre.

The BACH commander said he is thrilled with the outcome of the audit and believes his employees' safe practices go hand-in-hand with patient safety. Appenzeller often reminds staff that patient safety is always at the forefront of everything they do.

"We are committed to continually improve the safety and quality of the care we provide," said Appenzeller. "It is our duty to provide compassionate, quality care to the individuals who have earned the right to receive medical care within Army Medicine and we do this by first practicing safety in our work environment."

According to the Southern Regional Medical Commander Maj. Gen. Jimmie Keenan, safe work environments are essential in patient care.

"Our most sacred obligation is to maintain our patients' trust.  There can be no doubt in their minds that their safety comes first," Keenan said after learning that BACH earned MS2 Star Status.

Although the MS2 audit reviews employee safety, LeFevre is confident in the patient safety program at BACH.

"Patient safety has always been a strength here at BACH, you have a good patient safety program," said LeFevre. "As a patient, if I see the workforce is safe then I know my safety is taken care of."

LeFevre explained that staff attitudes are better in organizations with a good safety program.

"A happier staff equates to happier patients," LeFevre concluded.



Sections
News
Topics
Army Medical Command's Safety Management System, Bach, Blanchfield Army Community Hospital, Chris Lee, David Caswell, DoD, Europe, Fort Campbell, Fort Campbell KY, George LeFevre, George N. Appenzeller, Jimmie Keenan, Joyce Espinoza, Kay Wombacher, Korea, Laura Boyd, MEDCOM, Patricia Horoho, Tim Edwards, U.S. Army, U.S. Department of Defense, United States