Nashville, TN – On Thursday, August 21st, The annual Wild Impressions: Animal Art Auction is celebrating its 10th year. Join Nashville Zoo keepers for an after-hours party that gives guests the opportunity to browse and bid on original masterpieces created by Nashville Zoo animals.

This year's art auction theme, Jubilemur, spotlights the Zoo's involvement in lemur conservation initiatives. During the event, guests can bid on dozens of extraordinary pieces of art work created by Nashville Zoo animals while enjoying food and cocktails.

Charles Welch, the conservation coordinator from the Duke Lemur Center, will be on-hand to discuss his travels to Madagascar and his work with the SAVA lemur conservation initiative.

All proceeds from the event will benefit SAVA.

Art is a valuable form of enrichment for animals. Using non-toxic, environmentally-safe materials, animals use paintbrushes, claws, paws and tails to create their one-of-a-kind masterpieces.

Wild Impressions is hosted by The Nashville chapter of the American Association of Zookeepers (AAZK). The event is scheduled for Thursday, August 21st beginning at 6:30pm in the Zoo's Croft Center. Tickets are $35.00 in advance and $40.00 at the door.

Wild Impressions is presented by The Nashville Smile Team and sponsored by Jerry's Artarama Nashville and Lipman Brothers.

For more information, visit www.nashvillezoo.org
About the American Association of Zookeepers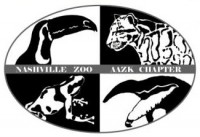 The American Association of Zookeepers (AAZK) is a nonprofit, volunteer organization made up of professional zoo keepers and other interested persons dedicated to professional animal care and conservation.
AAZK supports the promotion and implementation of zookeeper education and strives to make the general public aware of our concern for all deserving conservation projects and the need for the preservation of our natural resources and the species that depend on those resources.
About the Nashville Zoo
Nashville Zoo is accredited by the prestigious Association of Zoos and Aquariums, assuring the highest standards of animal care and husbandry. Attracting more than 776,000 visitors annually, the Zoo is considered one of the top things to do in Nashville.
The Zoo is a non-profit organization located at 3777 Nolensville Pike and is open every day except Thanksgiving, Christmas and New Year's Day. The mission of Nashville Zoo is to inspire a culture of understanding and discovery of our natural world through conservation, innovation and leadership.
For more information about Nashville Zoo, call 615.833.1534 or visit www.nashvillezoo.org
Sections
Events
Topics
Auction, Nashville, Nashville TN, Nashville Zoo