Our 126th meeting.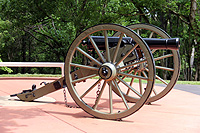 Clarksville, TN – The next meeting of the Clarksville (TN) Civil War Roundtable will be on Wednesday, September 17th, 2014 at the Bone & Joint Center, 980 Professional Park Drive, right across the street from Gateway Medical Center. This is just off Dunlop Lane and Holiday Drive and only a few minutes east of Governor's Square mall.
The meeting begins at 7:00pm and is always open to the public. Members please bring a friend or two – new recruits are always welcomed.
Topic: – "Twenty Five House to Tragedy: The Battle of Spring Hill, November 29th, 1864"
Students of John Bell Hood's Tennessee Campaign of 1864 know about the crushing Battle of Franklin and the sound thrashing received by the Confederates in two days of battle at Nashville in mid-December 1864.
What is also covered in the books on this campaign, but not often correctly, is what happened at Spring Hill, TN south of Franklin the day before that battle.
Using maneuver, Hood's Confederates had force marched north of John Schofield's Federals and reached Spring Hill before the latter's tried troops did, effectively in a position to cut them off from reaching Franklin. But a series of events kicked in that would see Hood's movement fall apart and Schofield's men march away during the night.
From lack of ammunition, to a jumbled command structure to officers failing to obey orders, the affair at Spring Hill, had it gone the other way, would have badly damaged the Union efforts to hold Nashville.
Our speaker this month is former US Marine Corps Gunnery Sergeant Jamie Gillum, who has dedicated more time and effort into Spring Hill than anyone in American today. He is simply the premier historian on this battle. The program will offer new sources of information, speak of the men involved and analyze what happened on that very confusing day in 1864.
Jamie's recent book, Twenty Five Hours to Tragedy, is a huge improvement over his earlier and smaller work that used primary sources to tell the tale in a time line. Jamie will have copies of this book for sale at our meeting as well as his other books.