APSU Sports Information Office

Clarksville, TN – Bennie Coney connected with Jeff Glover on a 42-yard Hail Mary pass to end the first half and Eastern Kentucky carried that momentum into the second half as the No. 18/19 Colonels defeated Austin Peay State University, 31-0, Saturday night, in Ohio Valley Conference action in Governors Stadium.
The loss left the Governors winless (0-5), including 0-2 in league play. It also was their 17th straight loss dating back to 2013 season's start. EKU improved to 5-0 and 2-0 in OVC play.
After EKU forced an APSU punt and took over the ball with 30 seconds left, the Colonels were forced to down the ball with 5.8 seconds left at APSU's 42, time enough for one final play. And Coney found the 6-4 Glover, who took the ball away from APSU defenders, The TD and extra point gave the Colonels a 17-0 lead as the half ended.
In addition to the score a personal foul penalty was whistled against the Govs and it was assessed on the kickoff, forcing Evan Toby to kick from his own 20 to the start the second half. Deno Montgomery then returned the second-half kickoff 66 yards to the APSU 11. Before APSU fans could get back to their seats from halftime, Dy'Shawn Mobley charged in for a 24-0 advantage.
From there, EKU controlled momentum for the game's remainder, although APSU had one late third-quarter/early-fourth quarter drive that ended on the Colonel one on a fourth-down fumble.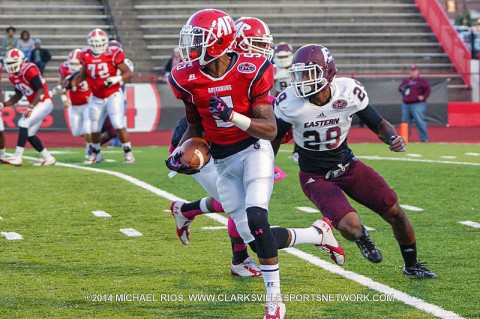 The Hail Mary pass literally wiped out a stout Govs' first-half defensive effort. APSU forced EKU into six punts. The only other Colonel points came as a result of an unsportsmanlike conduct penalty and an interception deep in Govs territory. In fact, APSU limited the Colonels to 144 offensive yards before that pass.
The Govs finished with 190 offensive yards, 87 on that one drive that ended on the EKU one. The Govs finished with only 85 yards passing combined from Mickey Macius and Darrien Boone while Julian Franklin gave APSU a spurt offensive, especially on the near-scoring drive, finishing with 39 yards rushing on nine carries.
APSU finished with only five first downs. As a result, Ben Campbell punted 11 times, the most in his four-year APSU career.
Defensively, the Govs held Dy'Shawn Mobley, the OVC's top rusher, to 55 yards on 10 carries…the 5.5 yards per carry well below his 8.6 average that ranked third nationally.
Sophomores Antonio Turner, a linebacker, and Damien Whitfield, a safety, led the Govs with 10 tackles. The Governors, however, were unable to force a turnover for a third straight game.
Coney completed 15 of 24 passes for 146 yards for EKU, with Devin Borders leading the way with five catches for 45 yards.
Linebacker Chris Kelly led EKU's defensive effort with 10 stops, including two for loss.
Photo Gallery
Box Score
Austin Peay (0-5 , 0-2) vs. Eastern Kentucky (5-0 , 2-0)
| Score by Quarters | 1st | 2nd | 3rd | 4th | Total |
| --- | --- | --- | --- | --- | --- |
| Eastern Kentucky | 10 | 7 | 14 | 0 | 31 |
| Austin Peay | 0 | 0 | 0 | 0 | 0 |
| | EKU | APSU |
| --- | --- | --- |
| FIRST DOWNS | 20 | 11 |
| Rushing | 10 | 5 |
| Passing | 8 | 4 |
| Penalty | 2 | 2 |
| NET YARDS RUSHING | 180 | 105 |
| Rushing Attempts | 47 | 34 |
| Average Per Rush | 3.8 | 3.1 |
| Rushing Touchdowns | 3 | 0 |
| Yards Gained Rushing | 204 | 136 |
| Yards Lost Rushing | 24 | 31 |
| NET YARDS PASSING | 174 | 85 |
| Completions-Attempts-Int | 19-29-0 | 14-26-2 |
| Average Per Attempt | 6.0 | 3.3 |
| Average Per Completion | 9.2 | 6.1 |
| Passing Touchdowns | 1 | 0 |
| TOTAL OFFENSE YARDS | 354 | 190 |
| Total offense plays | 76 | 60 |
| Average Gain Per Play | 4.7 | 3.2 |
| Fumbles: Number-Lost | 2-0 | 2-0 |
| Penalties: Number-Yards | 10-67 | 9-81 |
| PUNTS-YARDS | 8-280 | 11-423 |
| Average Yards Per Punt | 35.0 | 38.5 |
| Inside 20 | 6 | 1 |
| 50+ Yards | 1 | 1 |
| Touchbacks | 0 | 0 |
| Fair catch | 5 | 2 |
| KICKOFFS-YARDS | 5 – 288 | 1 – 57 |
| Average Yards Per Kickoff | 57.6 | 57.0 |
| Touchbacks | 1 | 0 |
| Punt returns: Number-Yards-TD | 8-53-0 | 0-0-0 |
| Average Per Return | 6.6 | 0 |
| Kickoff returns: Number-Yds-TD | 1-66-0 | 4-63-0 |
| Average Per Return | 66.0 | 15.8 |
| Interceptions: Number-Yds-TD | 2-43-0 | 0-0-0 |
| Fumble Returns: Number-Yds-TD | 0-0-0 | 0-0-0 |
| Miscellaneous Yards | 0 | 0 |
| Possession Time | 31:17 | 28:43 |
| Third-Down Conversions | 6 of 17 | 2 of 13 |
| Fourth-Down Conversions | 0 of 0 | 0 of 1 |
| Red-Zone Scores-Chances | 4-5 | 0-1 |
| Sacks By: Number-Yards | 1 – 10 | 1 – 5 |
| PAT Kicks | 4-4 | 0-0 |
| Field Goals | 1-2 | 0-0 |
| Qtr | Time | Scoring Play | EKU | APSU |
| --- | --- | --- | --- | --- |
| 1st | 05:16 | EKU – LLOYD, Andrew 35 yd field goal 6 plays, 33 yards, TOP 2:07 | 3 | 0 |
| 1st | 00:13 | EKU – FUGATE, C. 11 yd run (LLOYD, Andrew kick ), 2 plays, 15 yards, TOP 0:26 | 10 | 0 |
| 2nd | 00:00 | EKU – GLOVER, Jeff 42 yd pass from CONEY, Bennie (LLOYD, Andrew kick ) 3 plays, 51 yards, TOP 0:30 | 17 | 0 |
| 3rd | 14:16 | EKU – McCLAIN, Jared 1 yd run (LLOYD, Andrew kick ), 2 plays, 11 yards, TOP 0:34 | 24 | 0 |
| 3rd | 10:15 | EKU – MOBLEY, D. 6 yd run (LLOYD, Andrew kick ), 9 plays, 69 yards, TOP 2:40 | 31 | 0 |