Montgomery County, TN – Organizers hope an event tomorrow will help raise awareness of domestic violence and local victims.
Deputy Peggy Macias said the "Remember My Name" event was first brought to Montgomery County in October 2013, during Domestic Violence Awareness month, to Kenwood High School in memory of assistant principal Pam Cooper, who was killed by her ex-husband.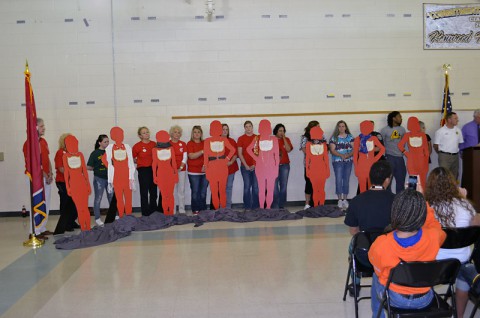 This year, the event will take place from 10:00am to 2:00pm Civic Hall in Veteran's Plaza on Pageant Lane. It will include the Clarksville Clothesline Project, the Silent Witness Project and Dreams to Screams.
"Last year, there were a total of 18 life-sized silhouettes that debut, each with a gold shield on them that tells who they were and what happened to them," Macias said. "This year, we have added 14 new silhouettes, all of which represent men, women and children murdered in this community from domestic violence.
"Not all of these people were born and raised here, but they all have one thing in common – they all died here," Macias added. "Some were beaten, stabbed, shot, strangled and set on fire."
Of the silhouettes exhibited, three were active-duty soldiers stationed at Fort Campbell, and this year's event is dedicated to them – PFC Ashley Barnes and SPC Shardae Wright.
"Ashley's mom, Michelle, is traveling to our event from Alabama and Shardae's mom, Retha, will be traveling here from Mississippi," Macias added. "There will be other local family members present."
The event will also feature a free lunch, while supplies last, a drawing for a 65" Vizio High Definition television, and open truck and car show hosted by Corvettes of Clarksville, a silent auction to benefit Safehouse and activities for children including a Home Depot Kid's Workshop.
The event is co-hosted by the Montgomery County Sheriff's Office and Daymar Institute. Wal-Mart is also a sponsor of the event.
The event will go on, rain or shine, and all are encouraged to attend.