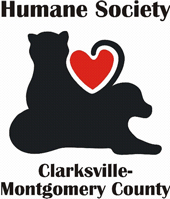 Clarksville, TN – Is this the year your beloved four-legged friend officially becomes royalty? Will they forever be addressed as Your Majesty/Your Highness by their loyal subjects?
In celebration of the Humane Society of Clarksville-Montgomery County's biggest event of the year, the 8th Annual Wags to Witches Fur Ball Bash, being held on October 25th at the Riverview Inn, pet owners are invited to submit their pet photo(s) to compete for the coveted title of King and Queen of Wags to Witches 2014.
Hurry, deadline to enter is Midnight on October 13th.
The prizes have been upped in a big way this year, but the royal glory is forever!
Just $10.00 per pet, per photo to register – all of which counts as votes!
Vote as often as you like, $1.00 equals 1 vote.
Top 10 finalists Receive
A professional portrait photo session with pet photography guru Tina Hartman of Picture Your Photo. A photo taken during this session will be featured within the 2015 Humane Society of Clarksville-Montgomery County Calendar.
A gift bag stuffed with gift certificates & coupons to local area businesses, toys, treats, and a framed 5×7 photo of your pet.
Grand Prize
The top earning male and female will earn the coveted title of King and Queen of the Wags to Witches Fur Ball. The King and Queen will receive an additional gift package, which new this year includes a feature on an educational billboard. The winners will grace the cover of the 2015 Humane Society Calendar sporting a fabulous Photoshop royal makeover to include crown jewels befitting their station.
A full sized version of the Photoshop coronation will be emailed to the proud parents for bragging purposes. Winners also receive a $100.00 gift certificate from Tina Hartman of www.pictureyourphoto.com to be used towards a digital painting or a private one-hour photo session for the royal family.
After the excitement of becoming royalty, the King or Queen can relax with a luxurious 30-minute pet massage compliments of DC Royalty, Licensed Massage Therapist and Certified Medical Massage Practitioner.
See all the rules and enter your pet photo(s) now at www.clarksvillehumanesociety.org.  The sooner you enter, the more time you have to rack up the votes! Proceeds benefit the the Humane Society of Clarksville-Montgomery County.