APSU Sports Information Office

Clarksville, TN – Austin Peay State University's volleyball team will close out the first half of Ohio Valley Conference play with contests Friday and Saturday in Nashville.
The Lady Govs first meet Tennessee State in a 6:00pm, Friday contest, before facing league co-leader Belmont in a 12:30pm, Saturday match.
Austin Peay (10-12, 4-2 OVC) opened its current four-match road trip with a pair of five-set losses, falling to both SIUE and Eastern Illinois, last weekend. Despite the back-to-back setbacks, the Lady Govs are just one loss behind a league-leading four-team group tied at 5-1.
The Lady Govs losses centered on a familiar problem – inconsistent passing and serving. Austin Peay's passing issues appeared in the form of 16 serve receptions errors, as it had two of its worst receiving nights since a September 20th loss to Memphis.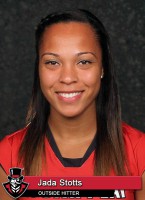 Austin Peay compounded its problems with 14 service errors in the two matches, including nine service miscues at SIUE – its most since the fifth match of the season against Drake.
"It's really simple; we have to focus on the service game, both serving and receiving," said Lady Govs head coach Taylor Mott. "We lost two close matches last week because we couldn't get a key pass or key serve when we needed to stop our opponent. We've worked on both all week and I believe we will do a better job in two important matches this weekend."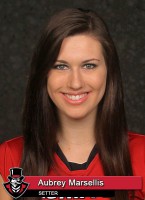 Austin Peay's offense continues to chug away in conference play, ranking third among OVC squads with a .227 attack percentage while ranking third in kills (13.32 per set). However, the Lady Govs defense continues to languish near the bottom of the rankings as opponents are hitting .220 (11th in the OVC) despite the team ranking third in digs (13.32 per set).
"I still believe we have a lot of room to improve," said Mott. "We have 10 matches left in the conference race and we'll play everyone in front of us so we still control our own fate. I'm not overly concerned with what opponents are hitting against us as I believe that number will come down as we continue to improve. We just have to go out and get better each time out."
Lady Govs to Watch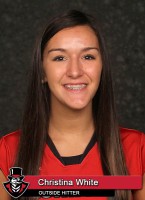 Freshman outside hitter Christina White… Came off the bench and made an impact at Eastern Illinois, last Saturday, finishing with eight kills and 10 digs. White started both the final three sets of that match and posted the final kills in the fourth set win. It was her best offensive performance since September 13th at Western Kentucky
Senior outside hitter Jada Stotts… Continuing her climb up both the Lady Govs kills and digs lists, she needs just six kills (1,094 career kills) to become one of only eight hitters to record 1,100 kills during their career. Stotts enters the weekend with 1,039 career digs, 16th most all-time, and needs 52 digs to move past both Andrea Miller (15th, 1089 digs) and Caroline Frens (14th, 1090) on the list.
Scouting the Opposition
Tennessee State
Tennessee State (8-13, 2-4 OVC) returns home after dropping both matches of its OVC road trip last weekend, falling in three sets at co-leader Jacksonville State before dropping a four-set decision at Tennessee Tech.
The Tigers are 3-2 at home this season with both losses coming in OVC play.
Tennessee State relies on a quartet of hitters that combined have 881 of the team's 979 kills. Senior outside hitter Taylor Swayzer (3.12 kills per set) and senior outside hitter Naomi Wells (3.11 kills per set) pace the Tigers offense, both sitting just outside the league top 10 hitters.
Belmont
Belmont (9-10, 5-1 OVC) is the hottest team in the OVC currently, winning its last five matches, including four straight road outings. The Bruins have used a lot of bodies in 2014, with only libero Ellie Ivancich playing every set and nine players recording at least 40 sets.
Freshman outside hitter Arianna Person leads Belmont's offense with 212 kills (3.03 per set) this season.
However, junior middle blocker Jocelyn Youngdahl has found her stride in conference play and ranks second on the team with 158 kills (2.23 per set), including an 18-kill performance in a win at Jacksonville State, last Saturday.
Team Comparison
Team
APSU
TSU
BEL
Record
10-12
8-13
9-10
OVC
4-2
2-4
5-1
Kills*
13.09
12.39
11.89
PCT.
.203
.171
.168
Aces*
1.25
1.22
1.46
Digs*
15.96
14.27
14.31
Blocks*
1.46
1.25
1.98
*-per set, all matches
Video – Christina White