APSU Sports Information Office

Clarksville, TN – Austin Peay State University men's golf team will use its own 16th Annual F&M Bank APSU Intercollegiate to wrap up the fall schedule, Monday and Tuesday, at The Links at Novadell, in Hopkinsville, KY.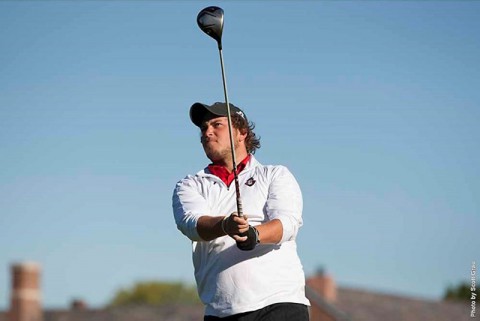 The two-day, 54-hole event will begin with an 8:00am shotgun start, Monday (36 holes), and finish with a 9:00am shotgun, Tuesday (18 holes) on the par 72, 6,841-yard layout.
The Governors have won the event eight times in the previous 15 seasons, with one season being rained out.
The 12-team tourney definitely has a mini-Ohio Valley Conference feel to it. Participating will be defending champ Belmont, Eastern Illinois, Eastern Kentucky, Morehead State, Murray State, Tennessee State, Tennessee Tech and UT Martin. Former OVC foe, Samford, now coached by former Titans kicker Al Del Greco, also is in the field along with Southern Illinois and Western Illinois.
"It's definitely a good field," APSU interim coach Dustin Korte said. "Belmont won the event last year and pretty much has everyone back. I think the OVC is going to be really interesting—it's going to a really good OVC tournament (in the spring). You really can't look on paper right now and tell who is on top.
"Our guys are motivated—they are fired up. They want to win. One last go around this fall and they get a break."
Despite some frustrating moments during the first two rounds in Bowling Green, Kentucky, last week, the Governors finished sixth in the WKU Kenny Perry Invitational. In fact, they had the tourney's low round (294) on the final day. Juniors Chris Baker and Austin Kramer, assuming the roles as the Govs' top two golfers, again were impressive. Baker gained his highest finish as a Gov with his tie for third with a 1-over 217, including a final round 71..
"Baker is coming off that great finish at Olde Stone," Korte said. "He is really starting to figure it out even when he is not hitting it well. That obviously is the biggest thing. Not everyone is going to hit it well every day but you have to figure out how to get it in the hole. That is what Chris and Kramer are figuring out.
Kramer, meanwhile, tied for 11th with a 222, including a 1-over 73 on the final day.
"Kramer said that final day was one of his worst rounds he has had but he found a way to get it in the hole," Korte said. "His dad told him it was the best round he has ever seen him play because of how he grinded it out.
"That is what you have to have in college golf. You are going to have that grind. It's shooting that 73 or 74 when you are not hitting it well. That is what it is all about."
Freshman Jonas Vaisanen has continued his involvement in his first Govs season. He will be the only Govs' freshmen to have played every fall tournament with the F&M.
"Once we get into our weight training, I told our freshman I really don't want them out there hitting a lot of balls," Korte said. "I am going to tell them to take a couple of weeks off from it.
"Jonas is all for the break. He jumped right into this not knowing how mentally tough it is for five or six weeks, playing 54 holes on one day in most tournaments and carrying around that 30-pound bag, walking 15-16 miles a week."
The Govs will feature Baker, Kramer, Vaisanen as part of the team along with senior Tucker Wallace and freshman Andres Navarrete. The remaining three, freshmen Colton Godwin and Justin Arens along with sophomore Erik Hedberg, will play as individuals.
Video – Dustin Korte