Nashville, TN – Donut, one of Girl Scouts of Middle Tennessee's horses, was named one of three national finalists for the 2014 Certified Horsemanship Association (CHA) School Horse of the Year on October 25th.
Although Donut has recently retired from Camp Sycamore Hills (located in Ashland City) he has left a lasting impression on the many Girl Scouts who interacted with him over his 10 years living at camp.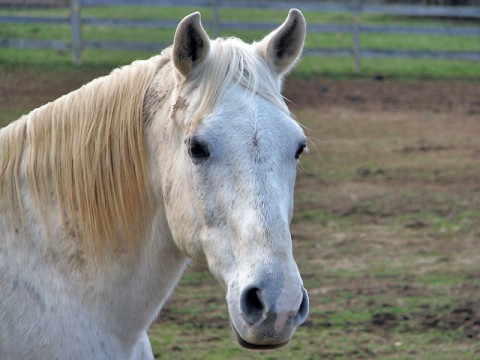 He carried his riders faithfully on trails, in lessons and even in parades. His many accomplishments include boosting the confidence of timid or fearful riders with his easy-going ways.
"We are extremely proud of Donut," said Equestrian Manager Carol Coats. "One especially memorable moment is when a girl with severe cerebral palsy had the chance to feel a part of the group when she participated with her friends on a trail ride astride Donut."
Donut has also touched youth beyond riding experiences. As part of Election Day activities, girls learned about the process by participating in a camp horse election complete with ballots and ballot booths. Among the presidential candidates was Donut, who won handily. Donut has represented the best of Camp Sycamore Hills in community parades and events and has even taken on the role of "facilitator" in the equine team building and leadership program.
Girl Scouts will remember Donut's legacy and accomplishments for years to come.
For more information about horseback riding lessons and other equestrian programs offered at Camp Sycamore Hills, visit gsmidtn.org/horse-programs/or call 615.792.6551.
About the Girl Scouts of Middle Tennessee
Girl Scouts of Middle Tennessee serves more than 13,000 girls and 6,000 adult volunteers in 39 counties. It is a part of Girl Scouts of the USA (GSUSA), the world's preeminent organization for girls, with a membership of more than 2.6 million girls and adults nationwide. GSUSA continues to strive to build girls of courage, confidence, and character, who make the world a better place.
For more information on how you can be involved in Girl Scouts visit www.gsmidtn.org