Clarksville, TN – Originally published at the turn of the nineteenth century, Louisa May Alcott's acclaimed story of love and family stands the test of time. This fall, the Roxy Regional Theatre presents a new version of this enduring American classic with "Little Women: The Musical", November 7th – November 29th.
Based on Alcott's own life and originally starring Sutton Foster and Maureen McGovern in the Broadway production, "Little Women" follows the adventures of sisters Jo (Allie McCaw), Meg (Elena Pascullo), Beth (Laura Donnelly) and Amy March (Corinne Bupp) and their experiences growing up in Civil War America.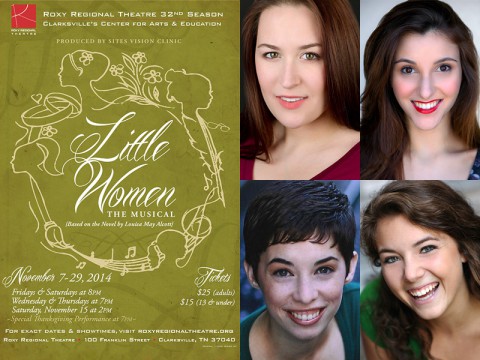 The musical also features Kim Kinsley as Marmee, Michael Spaziani as Laurie Laurence, Chase Miller as John Brooke, Leslie Greene as Aunt March, John McDonald as Mr. Laurence and Tyler Baxter as Professor Bhaer.
With music and lyrics by Jason Howland and Mindi Dickstein and book by Allan Knee, the powerful score soars with the sounds of personal discovery, heartache and hope — the sounds of a young America finding its voice. Under the direction of Tom Thayer, "Little Women" guarantees a night filled with laughter, tears and a lifting of the spirit.
"Little Women" runs November 7th through November 29th, playing Wednesdays and Thursdays at 7pm and Fridays and Saturdays at 8:00pm, with a 2:00pm matinee on Saturday, November 15th.
Friday, November 7th, is the traditional pay-what-you-can preview. All tickets not pre-sold at the regular ticket price will go on sale at 7:30pm that evening for whatever amount patrons are able to pay.
A special Thanksgiving performance of "Little Women" is being presented on Thursday, November 27th, at 7:00pm, including complimentary pumpkin, apple and pecan pie with the cast at intermission.
This production is made possible in part through the generous support of Jim & Jan Brannen, Dr. Joseph & Nancye Britton, Dr. Ernest & Joan DeWald, James & Christa Holleman, Barry Kitterman & Jill Eichhorn, Jim & Dottie Mann, Dr. Gary & Janet Mund, and Starlene Sykes.
Tickets are $25.00 (adults) and $15.00 (ages 13 and under) and may be reserved online at www.roxyregionaltheatre.org, by phone at 931.645.7699, or at the theatre during regular box office hours (9:00am to 2:00pm, Monday through Friday, and one hour prior to curtain). Active-duty military, APSU students and CitySaver coupon holders can enjoy two tickets for the price of one to Wednesday and Thursday performances.
The Roxy Regional Theatre is located at 100 Franklin Street in Clarksville, TN.