Clarksville, TN – After missing out on the postseason the past two years, both Austin Peay State University's men's and women's basketball teams have shown promise with the regular season beginning this week.
The Governors closed out their preseason schedule 2-0 after defeating Bryan College, on November 5th, 63-52 after hammering Webster University 82-48 on November 1st.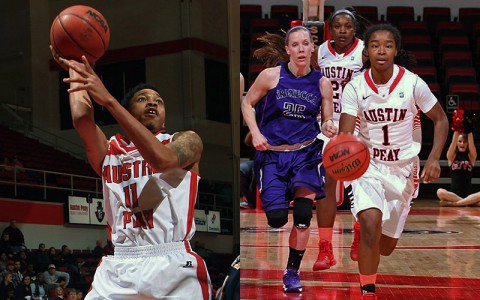 "We still have some work to do," said head coach Dave Loos, who is in his 25
th
year as the helm of the Governors. "We've had some pretty good ball movement on the offensive end and our defense has bought in pretty well and has started to take pride in guarding people and playing team defense.
"Of the four quarters we've played in the preseason, only one as stood out as poor and that was the first half against Bryan, but we turned the game upside down in the second half and that was a good sign."
Former All-Ohio Valley Conference Freshman of the Year post player Chris Horton returns for his junior season along with fellow starters (senior guard) Ed Dyson and (senior guard) Damarius Smith – who will be out until OVC play.
They will be joined by senior Chris Freeman, juniors Serigne Mboup and Zavion Williams; and Jeremy Purvis – who is a fifth-year player.
"Freeman has played well offensively," Loos said. "But he needs to stay at it defensively and continue to improve and be a little more consistent.
"As for our rotation, we definitely have six guys and we're trying to figure out who the first wing off the bench is and who the first post off the bench and that will give us eight-man rotation."
That leads into the newcomers to this year's squad, led by junior transfer Khalil Davis – who has started both preseason games – Assane Diop (sophomore forward/center) and freshmen Domas Budrys (guard), Tre' Ivory (guard), Josh Robinson (guard) and Chris Porter-Bunton (guard/forward).
"They're starting to improve now," Loos said. "For a while we were stuck on trying figure out what we were doing out there and there was more thinking than doing going on, but they've begun to adjust to what we're doing and our system and now they're beginning to play more intuitively.
"Now they have to take all of that, process that, and try to figure out where their game fits with all of those other things."
Like the Governors, the Lady Govs won both of their preseason games, with a blow-out win versus St. Catherine, 92-45, on November 1st and an 85-71 victory over Martin Methodist on November 9th.
"I thought last Saturday we played really good team basketball and it was a good game all the way around," Lady Govs coach Carrie Daniels said. "(Martin Methodist) was a good test for us — and we needed it — to bring us down from such a big win to show and exploit some things that we have to get better at."
Junior point-guard Tiasha Gray leads the returning Lady Govs – that includes the top five point scores from last season – senior guard Kristen Stainback, sophomore center Tearra Banks, junior forward Jennifer Nwokocha and sophomore forward/center Beth Rates.
Also returning for Austin Peay is Symantha Norton (forward), Lauren Maki (center), April Rivers (guard) and guard Jacey Scott.
"I think Jennifer has really settled in and has really battled and we're going to need that from her as we head into the regular season, because she can be so dominate in the post," Daniels said. "She's such a talent and is able to do so many things for us. She's so versatile.
"Tearra is such a force and does so many good things for us. Last year we really had to limit her minutes, because she was only able to play a few minutes at a time before she needed a breather, but she came back this fall trimmed up a little bit and has really worked on her conditioning and stamina and is in much better shape."
Joining the returners will be five freshmen, Brianne Alexander (center), guards Madison Rich and Falon Baker and forwards Sydney Gooch and Savannah Foister.
"I think (the freshman) settling in and doing a good job," Daniels said. "Madison Rich has done a good job on the defensive end and is gaining confidence on the offense end. Sidney Gooch is an athlete and she will gain confidence with each game and is already doing so good things for us.
"It's just unfortunate with injury Fallon Baker had last weekend and is going to be out for the year."
The question for Daniels as the regular season begins is, how long will it take for the young Lady Govs (only one senior) to put everything together.
"I just been really pleased with what these newcomers are doing," Daniels said. "I think our returners are doing a good job of bring them along and helping them improve every day.
"We have to bring the intensity, focus and energy for 40 minutes."
The Lady Govs open their regular season on November 14th by hosting Wright State University, while the Governors open play on the road at Western Kentucky University on November 15th.