APSU Sports Information

Murray, KY – Austin Peay State University's volleyball team had few answers for Ohio Valley Conference regular-season champion Murray State, falling in three sets (18-25, 15-25, 21-25), Tuesday night at Racer Arena.
Despite the loss, Austin Peay (14-17, 8-7 OVC) clinched a spot in next week's OVC championship courtesy SIUE's loss to Eastern Illinois.
The Lady Govs, who are tied for fifth in the OVC standings, enter their 1:00pm (CT) Saturday regular-season finale at Eastern Kentucky with only their seeding at risk.
Austin Peay (14-17, 8-7 OVC) could not find any offensive rhythm during the match, recording just nine kills in both the first and second sets, which they lost wire-to-wire. The Lady Govs did post 14 kills in the third set, which they led 20-18. But Murray State closed the match with a 7-1 run to secure a 25-21 victory to complete the sweep.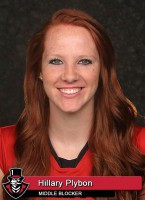 "It's hard to run your offense when you're not passing well," said Lady Govs head coach Taylor Mott. "We've battled our off-and-on passing throughout the year. We'll keep working at it and try to get it in shape for the conference tournament."
Senior middle blocker Hillary Plybon led Austin Peay with seven kills. The Lady Govs were held to 32 kills and a .119 attack percentage.
Murray State (23-4, 14-1 OVC) won its 12th consecutive contest. Scottie Ingram led all hitters with 12 kills while posting a .267 attack percentage. Kristen Besselsen and Taylor Olden each had nine kills. The Racers posted 43 kills at a .286 attack percentage.
Box Score
Austin Peay 0 vs Murray State 3
| | | 1 | 2 | 3 | Team Records |
| --- | --- | --- | --- | --- | --- |
| Murray State | (3) | 25 | 25 | 25 | 23-4, (14-1 OVC) |
| Austin Peay | (0) | 18 | 15 | 21 | 14-17, (8-7 OVC) |
Austin Peay (14-17, 8-7 OVC)
| ## | Player | SP | K | E | TA | PCT | A | E | SA | SE | RE | DIG | BS | BA | Points |
| --- | --- | --- | --- | --- | --- | --- | --- | --- | --- | --- | --- | --- | --- | --- | --- |
| 4 | EBRIGHT, Sammie | 2 | 4 | 5 | 21 | -.048 | 0 | 0 | 0 | 0 | 0 | 2 | 0 | 0 | 4.0 |
| 6 | SLAY, Ashley | 3 | 5 | 2 | 18 | .167 | 1 | 0 | 0 | 0 | 1 | 3 | 0 | 2 | 6.0 |
| 7 | MARSELLIS, Aubrey | 2 | 1 | 0 | 3 | .333 | 8 | 0 | 0 | 0 | 0 | 8 | 0 | 1 | 1.5 |
| 11 | WHITE, Christina | 3 | 4 | 2 | 15 | .133 | 0 | 0 | 0 | 1 | 1 | 5 | 0 | 1 | 4.5 |
| 13 | LITCHFIELD, Syd | 2 | 0 | 0 | 0 | .000 | 0 | 0 | 0 | 0 | 0 | 2 | 0 | 0 | 0.0 |
| 15 | PLYBON, Hillary | 3 | 7 | 5 | 22 | .091 | 1 | 0 | 3 | 0 | 0 | 1 | 0 | 3 | 11.5 |
| 1 | FIELDS, Cami | 3 | 1 | 0 | 1 | 1.000 | 19 | 0 | 0 | 0 | 1 | 7 | 0 | 3 | 2.5 |
| 3 | ADAMS, April | 1 | 0 | 0 | 0 | .000 | 0 | 0 | 0 | 0 | 0 | 1 | 0 | 0 | 0.0 |
| 5 | BALES, Lizzy | 3 | 1 | 0 | 2 | .500 | 2 | 0 | 1 | 1 | 1 | 11 | 0 | 0 | 2.0 |
| 8 | LANDON, Liz | 2 | 1 | 1 | 4 | .000 | 0 | 0 | 0 | 0 | 0 | 3 | 0 | 0 | 1.0 |
| 10 | STROTHER, Samantha | 1 | 4 | 1 | 10 | .300 | 0 | 0 | 0 | 0 | 0 | 1 | 0 | 0 | 4.0 |
| 14 | STOTTS, Jada | 3 | 4 | 3 | 19 | .053 | 1 | 0 | 1 | 0 | 0 | 7 | 0 | 0 | 5.0 |
| 17 | FERGUSON, Kelly | 1 | 0 | 0 | 1 | .000 | 0 | 0 | 0 | 0 | 0 | 0 | 0 | 0 | 0.0 |
| | Totals | 29 | 32 | 19 | 116 | .112 | 32 | 0 | 5 | 2 | 4 | 51 | 0 | 10 | 42.0 |
Team Attack By Set
Set
K
E
TA
Pct
1
9
4
42
.119
2
9
9
32
.000
3
14
6
42
.190
Total Team Blocks: 5.0
LEADERS:
Kills-Aces-Blocks:PLYBON, Hillary (7-3-3); SLAY, Ashley (5-0-2); EBRIGHT, Sammie (4-0-0); WHITE, Christina (4-0-1); STROTHER, Samantha (4-0-0); STOTTS, Jada (4-1-0); MARSELLIS, Aubrey (1-0-1); FIELDS, Cami (1-0-3); BALES, Lizzy (1-1-0); LANDON, Liz (1-0-0)Assists:FIELDS, Cami (19); MARSELLIS, Aubrey (8); BALES, Lizzy (2); SLAY, Ashley (1); PLYBON, Hillary (1); STOTTS, Jada (1)Digs:

BALES, Lizzy (11); MARSELLIS, Aubrey (8); FIELDS, Cami (7); STOTTS, Jada (7); WHITE, Christina (5); SLAY, Ashley (3); LANDON, Liz (3); EBRIGHT, Sammie (2); LITCHFIELD, Syd (2); PLYBON, Hillary (1); ADAMS, April (1); STROTHER, Samantha (1)
Murray State (23-4, 14-1 OVC)
| ## | Player | SP | K | E | TA | PCT | A | E | SA | SE | RE | DIG | BS | BA | Points |
| --- | --- | --- | --- | --- | --- | --- | --- | --- | --- | --- | --- | --- | --- | --- | --- |
| 1 | LELM, Alyssa | 3 | 4 | 0 | 10 | .400 | 0 | 0 | 2 | 2 | 0 | 2 | 1 | 2 | 8.0 |
| 4 | BEDARD, Sam | 3 | 2 | 1 | 3 | .333 | 30 | 0 | 0 | 0 | 0 | 11 | 0 | 0 | 2.0 |
| 6 | OLDEN, Taylor | 3 | 9 | 2 | 27 | .259 | 0 | 0 | 1 | 3 | 2 | 9 | 1 | 2 | 12.0 |
| 7 | INGRAM, Scottie | 3 | 12 | 4 | 30 | .267 | 1 | 0 | 1 | 0 | 2 | 7 | 0 | 0 | 13.0 |
| 8 | BESSELSEN, Kristen | 3 | 9 | 3 | 25 | .240 | 6 | 0 | 0 | 1 | 1 | 6 | 0 | 3 | 10.5 |
| 25 | CHATMAN, Olivia | 3 | 4 | 0 | 11 | .364 | 0 | 0 | 0 | 0 | 0 | 2 | 0 | 3 | 5.5 |
| 3 | STULTZ, Hannah | 2 | 1 | 0 | 1 | 1.000 | 1 | 0 | 0 | 0 | 0 | 2 | 0 | 0 | 1.0 |
| 5 | JONES, Kamille | 1 | 2 | 1 | 3 | .333 | 0 | 0 | 0 | 0 | 0 | 0 | 0 | 0 | 2.0 |
| 18 | LORENZ, Ellie | 3 | 0 | 0 | 2 | .000 | 1 | 0 | 0 | 0 | 0 | 15 | 0 | 0 | 0.0 |
| | Totals | 24 | 43 | 11 | 112 | .286 | 39 | 0 | 4 | 6 | 5 | 54 | 2 | 10 | 54.0 |
Team Attack By Set
Set
K
E
TA
Pct
1
17
6
45
.244
2
13
2
25
.440
3
13
3
42
.238
Total Team Blocks: 7.0
LEADERS:
Kills-Aces-Blocks:INGRAM, Scottie (12-1-0); OLDEN, Taylor (9-1-3); BESSELSEN, Kristen (9-0-3); LELM, Alyssa (4-2-3); CHATMAN, Olivia (4-0-3); BEDARD, Sam (2-0-0); JONES, Kamille (2-0-0); STULTZ, Hannah (1-0-0)Assists:BEDARD, Sam (30); BESSELSEN, Kristen (6); INGRAM, Scottie (1); STULTZ, Hannah (1); LORENZ, Ellie (1)

Digs: LORENZ, Ellie (15); BEDARD, Sam (11); OLDEN, Taylor (9); INGRAM, Scottie (7); BESSELSEN, Kristen (6); LELM, Alyssa (2); CHATMAN, Olivia (2); STULTZ, Hannah (2)