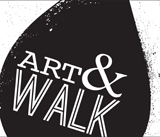 Clarksville, TN – Produced by the Downtown Clarksville Association, First Thursday Art Walk is a free, self-guided tour spanning a 5-block radius that combines visual art, live music, engaging events and more in the heart of Downtown Clarksville.
With 10+ venues, bars and businesses participating each month, the First Thursday Art Walk in Clarksville is the ultimate opportunity to savor and support local creative talent.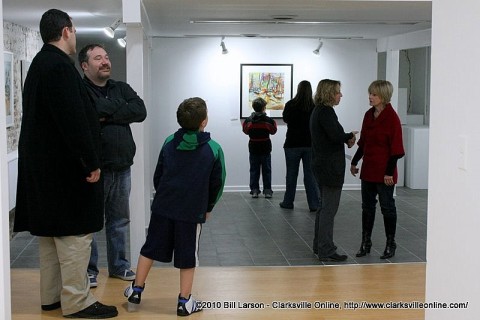 The December Art Walk will be held December 4th from 5:00pm to 8:00pm at the shops and galleries on Public Square, Franklin Street, and Strawberry Alley.
The participating businesses are listed below as well as a description of the work they will be exhibiting and services they will be offering during the event.
The Downtown Artists Co-op (96 Franklin Street)
The DAC is an association of talented local artists and interested patrons dedicated to promoting the visual arts in the Clarksville/Montgomery County area. Our objectives are to sponsor art exhibitions of work by Co-op members and regional artists, to provide continuing support for the Co-op and its membership through the sale of art work, to encourage arts education with outreach programs and scholarship fundraisers, and to develop membership services which directly support the arts community.
Artist Information:
The Downtown Artists Co-Op will hold it's annual Holiday Bazar, kicking off during the December First Thursday Art Walk on Thursday December 4th from 5:00pm-8:00pm.
There will be approximately 20 local artists selling their handmade pieces (jewelry, sculptures, photographs, paintings and drawings) all at reasonable prices. It's a great opportunity to pick up special, one-of-a-kind gift pieces. There will be light refreshments and Red River Breeze will be playing wonderful Celtic music.
Please join them at the DAC Gallery, 95 Franklin Street for the opening reception on Thursday, December 4th, 5:00pm-8:00pm. As always, the opening reception is a center point of Clarksville's First Thursday Art Walk.
Edward's Steakhouse (107 Franklin Street)
Edward's Steakhouse is proud to host local photographer, David Smith, during the December First Thursday ArtWalk.
David Smith is a retired U.S. Army Still Photographer, who came to the Clarksville area in 1976 as a member of the 101st Airborne Division.  He returned to Clarksville with his family after his retirement from the military.
Most of the photographs are of Landscapes and scenery but he also tries to photography the City of Clarksville.  "I feel that it's important for a photographer to help preserve the history through photographs."
He is a member of The Friends of Photography here in Clarksville.  His photographs have been displayed in Edward's Steakhouse, Tennessee State Museum, Customs House Museum and F&M Bank in Clarksville and Springfield and has been featured on local program, Tennessee Crossroads.
Stop in and see the art and take in their Thursday night special, 1/2 priced $7.00 appetizers and 2 for 1 draft drink specials.
The Runner's Hub (127 Franklin Street)
The Runner's Hub hosts group runs around Historic Downtown Clarksville every Thursday evening at 5:30pm.
The Roxy Regional Theatre – Peg Harvill Gallery (100 Franklin Street)
For those who enjoy the visual arts, the Peg Harvill Gallery, located just beyond the lobby, hosts twelve shows annually featuring locally and nationally known artisans. Shows generally open the first Thursday of each month for our First Thursday Art Walk.
Artist Information:
The Peg Harvill Gallery at the Roxy Regional Theatre is pleased to host a show featuring the work of students from Immaculate Conception School.
Gallery hours during Art Walk will be 5:00pm – 8:00pm.  Additional gallery hours are Monday through Friday, 9:00am–2:00pm.
For tickets to and information about our current productions of "A Christmas Carol" and "The Santaland Diaries," please visit www.roxyregionaltheatre.org or call the box office at 931.645.7699.
The Gilroy Neighborhood Pub (140 University Avenue)
Continue your evening of Art Walk down Franklin Street and stop in The Gilroy for a refreshing beverage and a great meal.
After Walk Party at The Gilroy…
2-4-1 Drafts til midnight, 2-4-1 Cocktails til 10:00pm
Customs House Museum (200 South 2nd Street)
The Customs House Museum and Cultural Center is Tennessee's second largest general interest museum. It features fine art, history, and children's exhibits.
Artist Information:
Noel Night
Thursday, December 4th, 5:30pm-8:00pm.
Celebrate the holidays during First Thursday Art Walk with Seasons: The Museum Store! Meet some of our local artists at this annual event.
Enjoy light refreshments and special sales throughout the store. Live music will be provided by Darrin Hoffman and Company. Find unique gifts for everyone on your list.
We specialize in local and regional artisans. Seasons offers free gift wrapping with any purchase! Support the Customs House Museum and shop local!
Exhibits:
My Kingdom for a Horse – Sponsored in Part by Jill Crow, TN State Museum, West Tennessee Regional Art Center
Eric L Hansen: Blood Rescue – Sponsored in part by Legends Bank
The Horse as Muse: Members of the American Academy of Equine Art
The Tennessee Walking Horse
Anthony Scarlati: Paper Mustangs
Guy Bozard: Horse of Wood
Giddy-Up: Toy Horses from the Collection
Ole Bill's Tack Shop
The Framemaker  (705 North Second Street)
Artist Information:
New Photographs by Greg Sand
The Framemaker proudly presents new work by photographer Greg Sand. The exhibit consists of two new series of tintype photographs developed by the artist in 2013 and 2014. The exhibit is part of Clarksville's First Thursday Art Walk on December 4th, 2014. An opening reception will be held from 5:00pm to 8:00pm. The artwork will remain on display at the Framemaker throughout the month of December during normal business hours (Monday through Friday 10:00am–5:00pm).
Greg Sand is an artist and photographer who explores the issues of existence, time and death. Sand received a BFA, Studio Art from Austin Peay State University in 2008. Exhibits include Manifold: The Body Divided, Trahern Gallery, Austin Peay State University, 2010: Beyond Memory, Fondazione Studio Marangoni, Florence, Italy,  2012: Subtle Manipulations: The Vision of Greg, Sand, Customs House Museum, Clarksville, TN, 2012: and Under the Radar, Cumberland Gallery, Nashville, TN. 2014.
Rogate's Boutique (115 Franklin Street)
Artist Information:
Rogate's Boutique will stay open late during the December First Thursday Art Walk. Stop in a find the perfect gift for every lady on your list this holiday season!!
Mildred & Mables (109 Franklin Street)
Mildred & Mable's is a unique and fun gift boutique offering something special for every occasion. Custom monogramming and gift baskets available for babies, birthdays, weddings and more.
Artist Information:
Mildred and Mable's will be open late during the December First Thursday Art Walk. Stop in and see great ways to transition your wardrobe and home this holiday season.
Couture Crush  (101 Franklin Street)
Artist Information:
Couture Crush will stay open late for the December First Thursday Art Walk. Stop in, have a glass of champagne and a nibble, and see all the great offerings to help transfer your wardrobe and home this holiday season!
The Well  (224 Union Street)
Artist Information:
For the December Art Walk, The Well will be featuring artists from the local community that we serve.
Lydia Walker, a local singer/songwriter, worship leader, and radio personality from 105.1 FM will be playing Christmas music. She will be joined by Emma Feldman, another local artists. CDs will be available for purchase.