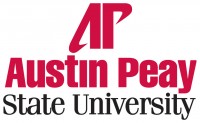 Clarksville, TN – As technology advances and becomes more a part of our daily lives, the opportunities available to aspiring techies continues to grow.
One Austin Peay State University student was recently recognized for his efforts in bringing the fantastic to life, using everyday items to create a low-cost, entry-level robotics platform.
APSU Computer Science and Information Technology student Donald Buhl-Brown was recently selected to compete in the 2015 Association for Computing Machinery Special Interest Group on Computer Science Education (ACM SIGCSE) student research competition.
Held March 4th-7th in Kansas City, MO, the event brings together computer science experts from around the world to discuss and share ideas on computer science education.
The goal of Buhl-Brown's research was to create a robot that could be built and operated by beginners. To accomplish that goal, he designed the body of the robot using simple LEGO blocks, as well as other cheap, easily accessible parts. To create the "brain" of the robot, he designed an operating system that runs on an Android smartphone.
"Back in the day when robotics were becoming a real thing, you had to buy a GPS, an accelerometer and all these other expensive sensors and somehow hook them all together," Buhl-Brown said. "I use a phone because all of those (tools) are already built in and they're honestly about as powerful as a laptop was just two years ago."
Dr. John Nicholson, assistant professor of computer science and information technology, said Buhl-Brown is the first APSU student to be chosen to present his project at the prestigious event.
"(Buhl-Brown's project) would really serve as someone's very first introduction to robotics, and that's why he designed a large part of it using simple things like LEGO bricks; he wanted to drive home that this could be a robot for beginners," Nicholson said. "People interested in robotics will now be able to do more advanced things without having to buy a lot of new parts.
"And for our department, this is a big thing because we're trying to promote our research. (Buhl-Brown) being accepted into this competition is something that APSU's Department of Computer Science and Information Technology can be proud of."