Game will represent both teams' first trip to the Franklin American Mortgage Music City Bowl and first on field meeting since 2007 Sugar Bowl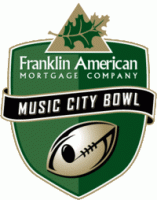 Nashville, TN – Representatives from the Franklin American Mortgage Music City Bowl announced today the Notre Dame Fighting Irish will represent the Atlantic Coast Conference (ACC) in the 17th annual Bowl as they take on the LSU Tigers of the Southeastern Conference (SEC).
Kickoff will be Tuesday, December 30th at 2:00pm CST at LP Field in Nashville. The game will be televised live on ESPN.
"In our five years as the title sponsor, we've been pleased to welcome teams rich in history and tradition, this year is certainly no exception with Notre Dame and LSU" said Dan Crockett, President/CEO of Franklin American Mortgage Company. "We're proud of the economic impact the game makes on the city, as well as the nationwide recognition it gives our company. The Bowl also presents an opportunity to give back to the communities that have helped in our success, and the exposure it generates brings even greater attention to the numerous charitable organizations we support. Both teams playing in this year's game have had great seasons, and we can't wait to see them take the field."
"We're thrilled to host the student-athletes, administrators, and fans from Notre Dame and LSU," said Toby Wilt, Bowl Selection Committee Chairman.  "The Bowl took great strides this year to improve our selection process, and I think this year's match-up proves that it was worth it.  We couldn't be more excited."
Notre Dame finished the regular season 7-5 and will be appearing in their fifth consecutive bowl game.  The fifth straight postseason appearance marks their longest streak since their run of nine consecutive bowl game appearances from 1987-1995.  Brian Kelly is the first head coach in Notre Dame history to coach in a bowl game in each of his first five seasons.
"We're thrilled with the opportunity to face LSU — one of the preeminent programs in all of college football," said Head Coach Brian Kelly. "When we worked with the ACC to fashion our agreement, part of the attraction for Notre Dame was the ability to provide our program with this type of matchup. In that vein we're excited to come to Nashville, to play in a bowl in which the University never before has participated and to play in a top-notch NFL venue."
LSU comes into the game sporting an 8-4 record, beating Texas A&M on the road to close the season.  The Tigers boast the third best defense in the country, allowing only 16.4 points per game.  Coach Les Miles has led the Tigers to ten straight Bowl games, including this year's, and sports a 6-3 record in bowls. Overall, Miles has led LSU to 95 victories thus far in his tenure.
"We are very excited to bring our football program and the great LSU fan base to Nashville to play Notre Dame in the Franklin American Mortgage Music City Bowl. Notre Dame is a traditional football power and we are looking forward to renewing what has been a tremendous rivalry between the two programs through the years," said Les Miles, Head Coach, LSU. "Nashville is a great city and the opportunity to play in an NFL venue makes this a very attractive bowl destination for us."
"We are delighted to be heading to Nashville for the Franklin American Mortgage Music City Bowl. This is a fantastic bowl destination against the historic Notre Dame football program," said Joe Alleva, Vice Chancellor and Director of Athletics, LSU. "We are excited about the opportunity to bring our incredible Tiger fans and football program to the great city of Nashville for what should be one of the most attractive matchups of the bowl season."
The 2014 game marks the first year of new six-year conference agreements in which the SEC will take on either the ACC or Big Ten in Nashville each year. While not officially part of the conference in football, Notre Dame represents the ACC in their bowl selections and in this year's Franklin American Mortgage Music City Bowl.  Last year, Ole Miss defeated Georgia Tech 25-17 in the front of a crowd of 52,125 attendees.
Notre Dame and LSU have met on the gridiron a total of ten times in their history.  The series is tied at five games apiece.  This is the first time the two have played against each other since the 2007 Sugar Bowl, a game that saw LSU run away with a 41-14 victory.
"We look forward to hosting the players, coaches, fans, and administrators from Notre Dame and LSU in our 17th annual Bowl game," said Scott Ramsey, President & CEO, Franklin American Mortgage Music City Bowl. "We were extremely excited about our new conference partnerships and feel we've got an unbelievable match-up this year. We're confident everyone from both schools will enjoy all that Music City has to offer over the New Year holiday."
Established in 1998, the Franklin American Mortgage Music City Bowl has transformed the week between Christmas and New Year's Day into one of the city's busiest times of the year for tourism. Since its inception, the Bowl has produced nearly $250 million in direct economic impact to Nashville.
Ticket Note
Tickets are available through Ticketmaster online at www.MusicCityBowl.com . Fans can enhance their Bowl Week experience through the purchase of a VIP Package, which includes exclusive tickets, hospitality invitations, and more.  More information on VIP Packages can be found on our website.
Special Note to Fans
For fans attending the game, please visit MusicCityBowl.com to purchase game day parking. Several parking options are available, but for those wishing to park in a stadium parking lot at LP Field, passes must be pre-purchased. No parking passes at LP Field will be available to purchase on game day.
About the Music City Bowl
The Franklin American Mortgage Music City Bowl (501(c)(3) non-profit organization) is an annual post-season collegiate Bowl featuring the Atlantic Coast or Big Ten and Southeastern Conferences. Since its inception, the Bowl has produced nearly $250 million in direct economic impact. Televised nationally to millions of viewers and listeners on ESPN and ESPN Radio, the Bowl is Nashville's Holiday Tradition.
For more information, call the Bowl office at 615.743.3130 or visit the Bowl online at www.MusicCityBowl.com