Austin Peay (7-13/2-4) vs. Morehead State (9-13/4-3)
Wednesday, January 28th, 2015 | 7:00pm CT
Clarksville, TN | Dunn Center

Clarksville, TN – After collecting that elusive road victory, Austin Peay men's basketball team will attempt to build momentum as it plays its next five games at home.
The Governors will play host to Morehead State, 7:00pm, Wednesday, in an important OVC contest for both clubs. The Govs enter the contest 2-4 in OVC play after claiming a 56-52 decision, Saturday, at Eastern Illinois.
The Governors rallied from a 13-point second-half deficit to down the Panthers.
The Governors defense, which allowed 50 percent shooting in the first half, proved more suffocating in the second half, permitting just 33 percent (9 of 27) shooting.
It also forced the Panthers into 10 second-half turnovers, many against the Govs full-court pressure.
Ed Dyson scored 14 points, going 5-of-7 from the floor, as did Khalil Davis, while Chris Horton recorded a double-double with 12 points and 12 rebounds. Horton currently has a streak of three straight double-doubles—the second time he has done that in his career. The 6-8 Horton never has strung together four straight double-doubles.
Meanwhile, freshman guard Josh Robinson is coming off a weekend in which he earned OVC Freshman of the Week honors after averaging 14 points per game. He scored 11 against EIU, including back-to-back three pointers that helped wiped out a 13-point second-half deficit. He also knocked down three free throws in the final five seconds to ensure the victory.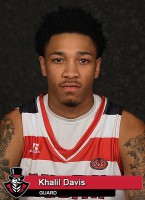 The Governors will be playing a Morehead State team, Wednesday, which has overcome a slow OVC start to move into second place in the East Division at 4-3.
The Eagles come to the Dunn Center seeking not only their third straight victory but their third consecutive OVC road victory as well.
All-OVC guard Angelo Warner leads Sean Woods crew at 13 points per game while Brent Arrington is at 11.3 ppg and LSU transfer Corban Collins is averaging 9.8 ppg. Kareem Story (4.5 apg) is considered one of the OVC's top point guards.
The Eagles are built around their defensive and rebounding. They are permitting just 65.8 points per game and allowing the opponents to shoot just 44 percent from the floor.
Despite not having dominating rebounder (Bill Reader is their leader at 5.1 rpg), the Eagles out-board their opponent by an impressive 4.6 rebounds per contest, including 13 offensive grabs per game that lead to second-chance opportunities.
The Series
This is the 105th meeting between Austin Peay and Morehead State, a pair of Ohio Valley Conference foes, with the Governors trailing 51-53. The two teams met just one time last season with Morehead State claiming a 90-88 double-overtime decision in Morehead, February 19th, 2014.
The More You Know
What A Win Would Mean: The Govs would improve to 8-13…they would gain their second OVC home victory…they would improve to 3-4 in league play…it would bew the first back-to-back OVC wins since January 24th, 2014…they would improve to 6-2 at home this season…it would give the Govs a two-game winning streak…it would be APSU's third win of 2015…they would go to 3-5 in January…they would improve to 52-53 all-time against Morehead State…it would make Dave Loos 29-20 all-time against Morehead State…it would make Loos 2-1 all-time against current MSU coach Sean Woods.
What A Loss Would Mean: The Govs would fall to 7-14 overall…it would drop the Govs to 2-5 in the OVC…the Govs would slip to 5-3 at home…APSU would fall to 1-4 against the OVC East…Loos would drop to 472-418 overall and 390-365 as the Governors head coach.
Broadcast Information
Radio • Governors Sports Network
Play-by-Play: Greg Walker
Analyst: David Loos
TV • GovTV • OVCDN
Play-by-Play: Charlie Patten
Analyst: Braden Wood
Governors on the Web
Live Video: www.OVCDigitalNetwork.com/showcase
Live Audio: www.LetsGoPeay.com
Live Statistics: www.statbroadcast.com