APSU Sports Information

Clarksville, TN – Austin Peay State University's softball team will be tested early-on as it opens the 2015 regular season this weekend at the Mississippi State Bulldog Kickoff Classic.
The Lady Govs begin play 10:00am, Friday against Mississippi Valley with a 3:00pm, matchup versus Saint Louis slated to wrap up opening-day play.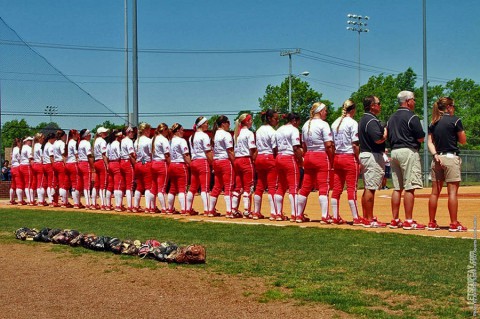 On Saturday, Austin Peay faces tournament host Mississippi State at 2:00pm—it will be available to Lady Govs fans on SECNetwork+ and ESPN3–with a rematch of the season opener versus Mississippi Valley to conclude the day at 7:00pm
The Lady Govs will finish in the Classic, 10:00am Sunday, with a contest versus Middle Tennessee.
Austin Peay, under third-year head coach Stephanie Paris, returns 12 players, including five starters, that went 20-32 overall in 2014, an 8-18 mark and a ninth-place Ohio Valley Conference finish.
Senior second baseman Laurel Burroughs is the most tenured Lady Govs returnee with 130 career games under her belt and is coming off a 2014 season where she hit .248, with five doubles, two triples and three home runs. She added 26 runs scored and drove in 17.
Other returning starters include juniors Mel Pavel (catcher/.268 BA, 1 HR, 21 RBI), Marissa Lake (outfield/.255 BA, 2 2B, 20 R) and Niya Sparks (third base/.111 BA, 1 HR, 3 RBI) while the final returning starter is sophomore Rikki Arkansas (outfield/.241 BA, 3 3B, 4 RBI).
Other returning letterwinners are: juniors Courtney Brower (outfield /.179 BA, 1 3B, 8 R), Vincheniza DiBenedetto (third base/.132 BA, 2 2B, 7 RBI), sophomores Chandler Groves (utility/.176 BA, 1 HR, 6 RBI), Sidney Hooper (pitcher/4-6 W-L, 1 Save, 28 Ks, 5.91 ERA), Allie Blackwood (pitcher/0-1 W-L, 1 Save, 4 Ks, 9.13 ERA), Christiana Gable (pitcher-first base/.174 BA, 1 HR) and senior Ashley Eisenbraun.
They will be joined by seven newcomers — two junior college transfers in Natalie Ayala (pitcher/Long Beach CC) and Morgan Hoeg (infielder/Iowa Western CC) — and five freshmen Erica Inagaki (shortstop/second baseman, Kaneohe, Hawaii), Heather Norris (pitcher, Clarksville), Savanna Oliver (outfield, Mt. Juliet), Kacy Acree (outfield, Riverside, Calif.) and Alexis Hill (catcher, Clarksville).
Austin Peay will open its home schedule, noon, February 14th, when it hosts Miami (Ohio) for a doubleheader at Cheryl Holt Field.
Scouting the Opposition at the Bulldog Kickoff Classic
Mississippi Valley finished with a 14-35 record last season, including a third-place finish in the Southwest Athletic Conference. Austin Peay is 3-0 all-time versus the Devilettes, with their last meeting, a 3-0 Lady Govs victory, coming March 10th, 2007 at the Birmingham-Southern Panther Spring Classic.
Saint Louis finished 30-21 last year in the Atlantic 10 Conference – finishing second — and is picked to repeat as runners-up in the A 10 preseason poll. Austin Peay is 9-6 all-time versus the Billikens, with the last meeting, a 2-1 loss, coming March 20th, 2002.
Mississippi State finished 39-21 last year – finishing 10th in the Southeastern Conference – and are picked to finish 11th this season, despite receiving votes in the ESPN.com/USA Softball pre-season poll. Austin Peay is 0-6 all-time versus the Bulldogs, with its last meeting, an 11-3 loss, coming March 8th, 2008 in this same Bulldog Classic.
Middle Tennessee finished 10-45 last season and is picked to finish 12th in Conference USA in 2015. Austin Peay is 17-31 all-time versus the Blue Raiders, with the last meeting, an 8-0 victory, coming April 9th, 2014.