Written by Sgt. 1st Class Mary Rose Mittlesteadt
101st Sustainment Brigade, 101st Airborne Division (AA) Public Affairs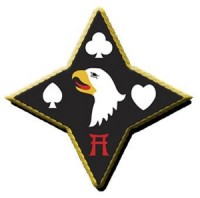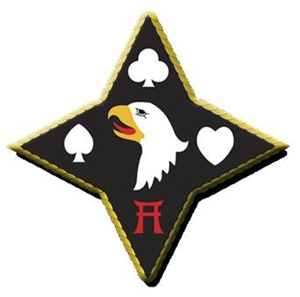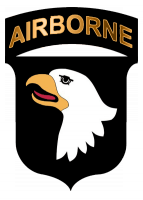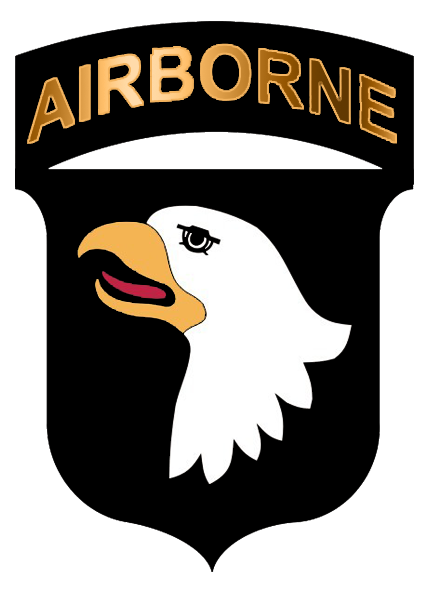 Buchanan, Liberia – The 101st Sustainment Brigade, Task Force Lifeliner, the logistical element for Joint Forces Command – United Assistance, cased its unit colors in a traditional military ceremony held in Buchanan, Liberia, February 24th, 2015.
The ceremony, which signifies the completion of their mission in West Africa where they provided logistical support for Operation United Assistance, was attended by Maj. Gen. Gary Volesky, commander of the Joint Forces Command – United Assistance, Command Sgt. Maj. Gregory Nowak, the JFC-UA senior enlisted advisor, and Etweda "Sugar" Cooper, the superintendant for Bassa County, Liberia.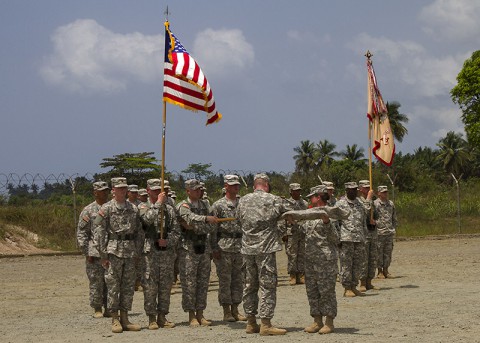 During the ceremony, Col. Kimberly Daub, commander of Task Force Lifeliner, and her senior enlisted adviser, Command Sgt. Maj. Ian Griffin, furled the unit colors.
United Assistance is a Department of Defense operation in Liberia to provide logistics, medical training and engineering support to U.S. Agency for International Development-led efforts to contain the Ebola virus outbreak.
"The contributions the Lifeliners have made on the ability of the JFC to accomplish our mission has been immeasurable," said Volesky, at the ceremony. "Everything we needed to operate had to be built from scratch."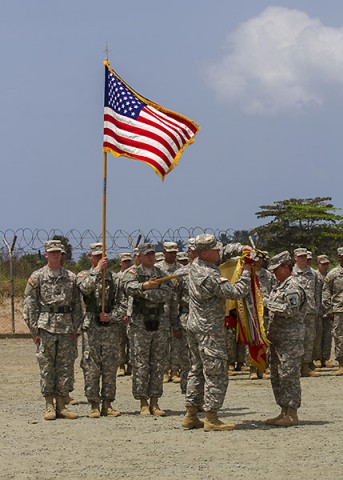 The Lifeliner's accomplishments encompassed a wide range of specialties.
"We developed a theater concept of support, established the theater logistics infrastructure and distribution architecture from scratch and collapsed it in five months," said Daub.
Upon arriving in Liberia in early November, Task Force Lifeliner uncased its colors in Harbel, Liberia. The task force brought in logistical capabilities to bridge gaps for USAID, in their mission to contain Ebola. It deployed with two organic battalions from Fort Campbell, Kentucky, and one battalion from Fort Eustis, Virginia.
The Lifeliners provided logistical support to the ETUs until they transitioned their sustainment mission to the World Food Programme mid-December. It continued to support the mobile medical labs and the Monrovia Medical Unit through the duration of the deployment.
"The Lifeliners distributed more than one million gallons of fuel and produced nearly 240,000 gallons of water through a tactical water purification system for the JFC," said Maj. Brian Cozine, Task Force Lifeliner's support officer.
Other contributions to the mission include the operation of a multiclass warehouse, cargo movement operations, transportation assets, personnel accountability team to manage incoming and outgoing service members, financial management, airfield operations, contract management, food, and water distribution and postal operations.
Each of these specialties was provided through the battalions assigned to the 101st Sustainment Brigade's Task Force Lifeliner; the 129th Combat Sustainment Support Battalion, the 101st Special Troops Battalion and the 53rd Movement Control Battalion.
"Whether surveying land, creating life support areas, in-processing service members into theater, establishing supply support activities or preparing critical equipment to be flown to isolated areas of the country in support of EVD containment operations, the Lifeliners got whatever was needed to the right location at exactly the right time," said Volesky.
Video