Tennessee Representative Joe Pitts
Carbon Monoxide Awareness Day legislation advances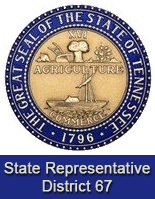 Nashville, TN – A bill designed to help veterans and their spouses find employment was defeated in the Consumer and Human Resources subcommittee of the Tennessee House of Representatives this week.

The bill, sponsored by Representative Joe Pitts (D-Clarksville), would have enabled private employers to create written policies giving preference in hiring honorably discharged veterans, their spouses, widows and widowers.

The bill failed by a quick voice vote with no questions or discussion by the committee.

"It is always greatly disappointing when we miss an opportunity to help our veterans and their families, and yesterday it was clear some members of the committee were not in the mood to help," Pitts said. Pitts went on to say "private employers would be authorized but not required to enact preferences and it could have helped thousands of veterans across the state. Small business groups lobbied against this legislation even though it would have protected employers from running afoul of the Civil Rights Act of 1964."

While the legislation is dead for the 2015 session of the Tennessee General Assembly, the push for passage will continue.  "I remain committed to seeing this bill passed, if not this year then next year," said Pitts. "Stating we 'support our veterans' is lip service and is not enough."
Carbon Monoxide Awareness Day legislation clears first hurdle
Declaring September 18th as Carbon Monoxide Awareness Day, in perpetuity, cleared the House Health subcommittee this week.
This legislation was filed in memory of the five people, all members of the Bikers Who Care (BWC 5), who lost their lives due to carbon monoxide poisoning on September 18th, 2011, while participating in the Annual Leslie W. Watson Memorial Toy Run event.  Eddie and Christine Watson, who lost their daughter, Katy Over, and son-in-law, Jon Over, were in attendance at the hearing.
"Tragically, the very day this legislation was approved by the subcommittee, Tennessee Emergency Management Agency (TEMA) reported an 82 year old man was killed by carbon monoxide poisoning due to a generator he had in the basement of his home," said Joe Pitts.  "It is the unnecessary deaths like this one and the "BWC 5" that this legislation is designed to reduce and hopefully eliminate."  The legislation will now be heard in the full Health Committee next week.
If you have questions about the above or other issues of concern, please call me at 615.741.2043, or email me at
Sections
Politics
Topics
Bikers who Care, Carbon Monoxide, Carbon Monoxide Awareness Day, Civil Rights Act of 1964, Joe Pitts, Nashville TN, TEMA, Tennessee Emergency Management Agency, Tennessee General Assembly, Tennessee State House of Representatives District 67, Veterans