Montgomery County, TN – Altra Federal Credit Union is the latest business to become Clarksville-Montgomery County Green Certified.
City of Clarksville Mayor Kim McMillan and Chamber of Commerce Director Melinda Shepard joined Altra team members for their green ribbon cutting.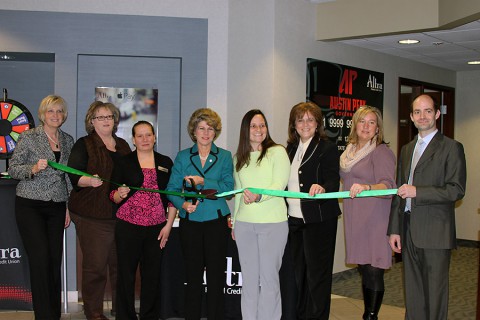 McMillan encouraged the staff to share some of the activities they had done to earn their certification.
Kelly George, teller supervisor explained, "Some of the things we did lined right up with corporate initiatives to conserve resources. We consolidated the number of printers to save energy, ink and the cost of maintenance, reduced the amount of paper printed by emailing receipts to members who prefer email resulting in less paper rolls ordered, and we are increasing overall online use with customers. Our Madison Street branch also updated thermostats to better control the temperature settings for improved energy efficiency."
Branch Manager Rose Melton added, "We've also increased our recycling and started combining office orders to eliminate some packaging materials which resulted in downsizing our dumpster. We also added energy efficient lighting to reduce energy costs."
"Our new location off Wilma Rudolph Boulevard, scheduled to open later this year has been designed with natural lighting, occupancy sensors, and efficient equipment, we are working to minimize our impact while providing our customers with the same great service," stated Melton. "We feel it is important to be involved in the community and working to conserve resources is one way we can do that."
McMillan asked, "Do you feel some of the things done at work to conserve are carried into home as well? It's important to know these efforts are reaching the home. When my children were in elementary school they were a part of the recycling team and they made sure we recycled at home."
"Yes, I have started recycling at home now too since we started this process," said Melton. A few others agreed they were also making adjustments at home.
Altra Federal Credit Union has two locations in Clarksville –the Madison Street location and Stone Container Drive. Each member of Altra owns one 'share' of the credit union. Altra returns extra earnings directly to its members through better rates, fewer fees, and the tools and resources they need to successfully manage their finances.
For more info about Altra, visit www.altra.org
If your business has an interest in learning more about the Clarksville-Montgomery County Green Certification Program email Michelle Newell at manewell@mcgtn.net or call 931.245.1867.