Clarksville, TN – Due to the inclement weather conditions, the City of Clarksville has received inquiries about the City Council Meeting scheduled for 7:00pm on Thursday, March 5th, 2015.
Under the provisions of the City's Charter and the City Code, all regularly scheduled Council meetings shall occur on the first Thursday of the month unless a specific ordinance is passed (which requires two separate readings) changing the meeting date or time; therefore, tonight's meeting cannot be cancelled or rescheduled.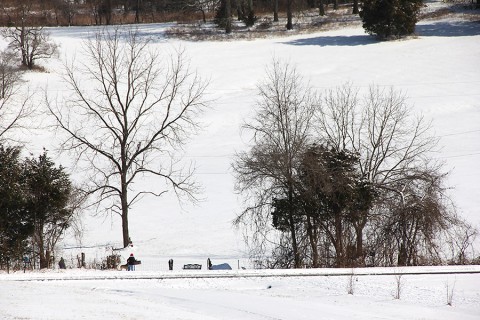 However, if there is not a quorum present, meaning that a majority of the Council members are not able to attend, no business of the City can be conducted.
"I have strongly urged our City employees and the public to use extreme caution if they have to travel and to stay home if at all possible. I have been advised by a majority of the Council members that they will not be able to attend tonight's meeting due to hazardous road conditions. As a result, no City business will be conducted tonight," said Clarksville Kim Mayor McMillan.
"We have been advised that traveling continues to be treacherous and the temperatures will continue to drop to single digits, increasing the likelihood of re-freezing streets. If necessary, I will call a Special Session to address business scheduled on the March 5th agenda," stated Mayor McMillan
Additional weather-related updates
According to the Clarksville Street Department, the roads throughout the City are extremely hazardous. Street Department employees worked throughout the night and will continue to work around the clock to remove snow from the roadways. They are attempting to clear at least one passable lane on the major roadways first.
The Clarksville Police Department is reporting that there is less traffic than usual and the number of accidents has decreased while the number of calls for assistance with disabled vehicles has skyrocketed. Many people are apparently choosing to heed the warnings to stay off the roads, according to CPD.
The Clarksville Transit System will continue to operate on snow routes in the morning and buses may be diverted or delayed due to road conditions. As the roads improve, CTS will return to regular routes as soon as possible.
Shelters are in place through the City's community partners and we are confident that there are a sufficient number of beds to address the current need.
The Room in the Inn program, the Salvation Army, Buffalo Valley and Urban Ministries continue to coordinate with the City's Office of Housing and Community Development to provide assistance to people who live in Clarksville and may need shelter assistance. Clarksville Fire Rescue and CPD personnel are also on the lookout for anyone who may need assistance.
A decision has not been made about the schedule for City offices tomorrow. Additional information will be made available as soon as possible.