Austin Peay Sports Information

Clarksville, TN – Austin Peay State University's softball team scored seven runs in the first two innings versus Eastern Illinois, Wednesday at Cheryl Holt Field, on its way to an 8-7 win over the Panthers, before dropping the nightcap, 12-0.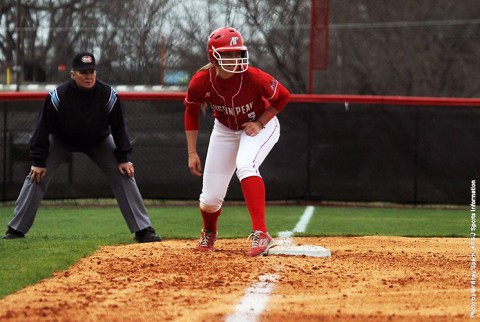 The victory was the first to open OVC play for Austin Peay since 2008, when they defeated then conference member Samford, 6-4, while the win also ending what was a 12-game losing streak.
The Lady Govs (2-13, 1-1 OVC) took advantage of some early wildness by EIU starter Michelle Rogers –who didn't record an out in facing five batters – as she gave up a double and a single to Chandler Groves and Laurel Burroughs respectively to open the game, followed by back-to-back walks to Christiana Gable and Niya Sparks.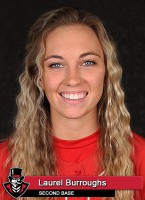 Burroughs and Sparks would both reach base four times in the contest, with Burroughs going 3-for-3 – including her 100th career hit – and being hit by a pitch, while Sparks had a single and three walks.
Hitting Vinchenza DiBenedetto to bring in a run ended Rogers' day, but Panthers (6-12, 1-1 OVC) reliever Hannah Rachor was greeted with an RBI single by Mel Pavel, followed by Allie Blackwood picking up an RBI after being hit by a pitch – making it 4-1.
The Lady Govs would add three more runs in the bottom of the second inning, all coming on a home run by Niya Sparks – her third of the season – to go up 7-1.
The score would remain that way until the top of the fifth inning, when Bailey O'Dell blasted a three run homer to cut APSU's lead to 7-4.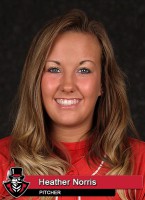 Katie Watson and Taylor Miokovic picked up RBIs in the top of the sixth for EIU to make it 7-6, but Austin Peay would answer back in the bottom of the inning with a run on a sacrifice fly by Pavel to make it a two-run game, 8-6.
The Panthers would threaten in the top of the seventh, scoring a run on a passed ball, and have the tying run of third, but Heather Norris got Tori Johnson on strikes to end the game.
Blackwood (1-2) picked up the win, her first collegiate victory in four decisions, while Norris earned her first career save.
In Game 2, Eastern Illinois scored four runs in each of the first, fourth and fifth innings for all of their scoring – including a grand slam by O'Dell in the fourth inning.
Austin Peay would be limited to just three hits in the nightcap, all singles, coming from Natalie Ayala, Rikki Arkansas and Gable.
Box Score – Game 1
Eastern Illinois (5-12 / 0-1) -vs- Austin Peay (2-12 / 1-0)
| | 1 | 2 | 3 | 4 | 5 | 6 | 7 | R | H | E |
| --- | --- | --- | --- | --- | --- | --- | --- | --- | --- | --- |
| Eastern Illinois | 1 | 0 | 0 | 0 | 3 | 2 | 1 | 7 | 10 | 5 |
| Austin Peay | 4 | 3 | 0 | 0 | 0 | 1 | X | 8 | 7 | 2 |
W: BLACKWOOD, Allie (1-2)L: ROGERS, Michelle (3-4)S: NORRIS, Heather (1)
Eastern Illinois 7
| | Player | AB | R | H | RBI | BB | SO | LOB |
| --- | --- | --- | --- | --- | --- | --- | --- | --- |
| c | ROBERTS, Andrea | 3 | 1 | 0 | 0 | 0 | 2 | 0 |
| ph | TOENYES, Amber | 1 | 0 | 1 | 0 | 0 | 0 | 0 |
| 3b | BECK, Haylee | 2 | 1 | 1 | 0 | 0 | 0 | 2 |
| ss | O'DELL, Bailey | 4 | 2 | 3 | 4 | 0 | 0 | 0 |
| dp/c | COLE, Hannah | 4 | 0 | 2 | 0 | 0 | 0 | 1 |
| cf | MARKOWSKI, April | 3 | 1 | 0 | 0 | 1 | 0 | 0 |
| 1b | BENNETT, Kylie | 4 | 0 | 1 | 0 | 0 | 2 | 2 |
| rf | JOHNSON, Tori | 4 | 0 | 0 | 0 | 0 | 1 | 1 |
| 2b | WATSON, Katie | 3 | 2 | 1 | 1 | 0 | 1 | 0 |
| lf | ISAAC, Jennette | 2 | 0 | 0 | 0 | 0 | 0 | 0 |
| ph | MIOKOVIC, Taylor | 1 | 0 | 1 | 1 | 0 | 0 | 0 |
| p | ROGERS, Michelle | 0 | 0 | 0 | 0 | 0 | 0 | 0 |
| p | RACHOR, Hannah | 0 | 0 | 0 | 0 | 0 | 0 | 0 |
| | Totals | 31 | 7 | 10 | 6 | 1 | 6 | 6 |
Batting
2B: TOENYES, Amber (1); BECK, Haylee (1); COLE, Hannah (1); WATSON, Katie (1)HR: O'DELL, Bailey (1)SH: BECK, Haylee (1)
Baserunning
SB: MARKOWSKI, April (2)HBP:BECK, Haylee (1)
Fielding
E: ROBERTS, Andrea (1); BECK, Haylee (2); O'DELL, Bailey (1); WATSON, Katie (1)
Austin Peay 8
| | Player | AB | R | H | RBI | BB | SO | LOB |
| --- | --- | --- | --- | --- | --- | --- | --- | --- |
| lf | GROVES, Chandler | 4 | 1 | 1 | 0 | 0 | 0 | 4 |
| 2b | BURROUGHS, Laurel | 3 | 3 | 3 | 0 | 0 | 0 | 0 |
| 1b | GABLE, Christiana | 3 | 2 | 1 | 0 | 1 | 0 | 2 |
| 3b | SPARKS, Niya | 1 | 2 | 1 | 3 | 3 | 0 | 0 |
| dp | DiBENEDETTO, Vinchen | 3 | 0 | 0 | 1 | 0 | 0 | 0 |
| pr | LAKE, Marissa | 0 | 0 | 0 | 0 | 0 | 0 | 0 |
| c | PAVEL, Mel | 3 | 0 | 1 | 2 | 0 | 0 | 0 |
| p | BLACKWOOD, Allie | 2 | 0 | 0 | 1 | 0 | 0 | 0 |
| p | NORRIS, Heather | 1 | 0 | 0 | 0 | 0 | 0 | 2 |
| rf | ARKANSAS, Rikki | 2 | 0 | 0 | 0 | 0 | 1 | 0 |
| ph | HOEG, Morgan | 1 | 0 | 0 | 0 | 0 | 0 | 0 |
| cf | BROWER, Courtney | 3 | 0 | 0 | 0 | 0 | 1 | 0 |
| ss | INAGAKI, Erica | 0 | 0 | 0 | 0 | 0 | 0 | 0 |
| | Totals | 26 | 8 | 7 | 7 | 4 | 2 | 8 |
Batting
2B: GROVES, Chandler (1)
HR: SPARKS, Niya (1)
SF: PAVEL, Mel (1)
Baserunning
SB: BURROUGHS, Laurel (3); GABLE, Christiana (1)
HBP: BURROUGHS, Laurel (1); DiBENEDETTO, Vinchen (1); BLACKWOOD, Allie (1)
Fielding
E: GABLE, Christiana (1); SPARKS, Niya (1)
Box Score – Game 2
Eastern Illinois (6-12 / 1-1) -vs- Austin Peay (2-13 / 1-1)
| | 1 | 2 | 3 | 4 | 5 | R | H | E |
| --- | --- | --- | --- | --- | --- | --- | --- | --- |
| Eastern Illinois | 4 | 0 | 0 | 4 | 4 | 12 | 16 | 0 |
| Austin Peay | 0 | 0 | 0 | 0 | 0 | 0 | 3 | 2 |
W: WIREMAN, Jessica (3-7) L: NORRIS, Heather (0-3)
Eastern Illinois 12
Player
AB
R
H
RBI
BB
SO
LOB
cf
BECK, Haylee
4
1
0
0
0
0
0
lf
ISAAC, Jennette
3
2
2
0
0
0
0
ph
MIOKOVIC, Taylor
1
0
1
2
0
0
0
ss
O'DELL, Bailey
4
2
3
5
0
0
1
c
COLE, Hannah
4
1
2
1
0
0
0
1b
TOENYES, Amber
4
1
2
0
0
1
3
pr
MONAHAN, Taylor
0
1
0
0
0
0
0
rf
MARKOWSKI, April
3
1
1
0
0
0
0
3b
RACHOR, Hannah
3
0
2
1
0
0
0
dp
PAUL, Ashlynne
3
2
3
3
0
0
0
2b
WATSON, Katie
3
1
0
0
0
0
0
p
WIREMAN, Jessica
0
0
0
0
0
0
0
Totals
32
12
16
12
0
1
4
Batting
2B: O'DELL, Bailey (2); PAUL, Ashlynne (1)HR: O'DELL, Bailey (1)
Baserunning
CS: PAUL, Ashlynne (1)
Austin Peay 0
| | Player | AB | R | H | RBI | BB | SO | LOB |
| --- | --- | --- | --- | --- | --- | --- | --- | --- |
| lf | GROVES, Chandler | 2 | 0 | 0 | 0 | 1 | 0 | 1 |
| 2b | BURROUGHS, Laurel | 3 | 0 | 0 | 0 | 0 | 1 | 0 |
| 1b | GABLE, Christiana | 2 | 0 | 1 | 0 | 1 | 0 | 0 |
| 3b | SPARKS, Niya | 2 | 0 | 0 | 0 | 0 | 0 | 0 |
| dp | DiBENEDETTO, Vinchen | 1 | 0 | 0 | 0 | 1 | 1 | 0 |
| c | PAVEL, Mel | 2 | 0 | 0 | 0 | 0 | 0 | 3 |
| p | AYALA, Natalie | 2 | 0 | 1 | 0 | 0 | 1 | 0 |
| p | HOOPER, Sidney | 0 | 0 | 0 | 0 | 0 | 0 | 0 |
| rf | ARKANSAS, Rikki | 2 | 0 | 1 | 0 | 0 | 0 | 1 |
| cf | BROWER, Courtney | 1 | 0 | 0 | 0 | 1 | 1 | 0 |
| ss | INAGAKI, Erica | 0 | 0 | 0 | 0 | 0 | 0 | 0 |
| | Totals | 17 | 0 | 3 | 0 | 4 | 4 | 5 |
Batting
2B:GABLE, Christiana (1)
Baserunning
CS: BROWER, Courtney (1)
Fielding
E: BURROUGHS, Laurel (1); SPARKS, Niya (1)