AAA Survey shows 63% Plan to take a cruise in the future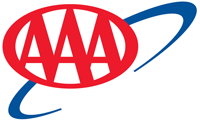 Tampa, FL – Cruise lines are sailing into their busy season as students and families snatch up cabins for a getaway on the waterway. The industry coasted through one of its biggest years to date and expects an even bigger 2015.
"January through March is typically the best time to book a cruise," said Mark Jenkins, spokesman, AAA-The Auto Club Group. "People who book thru a AAA Travel Agent by March 31st can receive up to $500.00 in savings or onboard credit, plus additional savings from select Cruise Lines."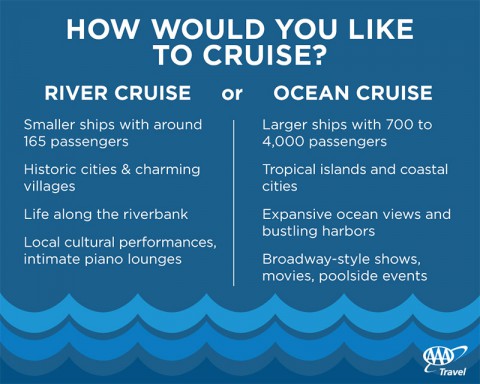 A record setting 23 million passengers are expected to take an ocean or river cruise this year, a four percent increase over 2014 estimates of 22.1 million passengers, according to the Cruise Lines International Association.
In response to growing demand, twenty-two ocean, river and specialty cruise ships are scheduled to debut this year. In April, Royal Caribbean will launch its second ship from the Quantum class, while Viking, well known for its river cruises, will introduce its first ocean cruise.
A recent AAA Consumer Pulse™ survey of people in Florida, Georgia and Tennessee found that more than half (53%) of people have been on a cruise of three days or more, a quarter of them (24%) cruised within the past year.
Click here to view the full survey
"Ocean and river cruises are the most popular trips booked with AAA Travel Agents in the southeastern United States," said Mark Jenkins, spokesman, AAA – The Auto Club Group. "Ocean liners are floating hotel resorts with fine dining, world-class entertainment and endless ocean views for one great price. River cruise ships are more intimate, boasting balcony views from every room and deliver you to the doorstep of some of the most beautiful destinations in the world. Itineraries for all cruises range from relaxing to adventurous."
Top 5 things people like best about cruising:
Visiting various destinations – 70%
All-inclusiveness – 59%
Unlimited food – 53%
Sailing/Days at sea – 51%
Entertainment (shows) on the ship – 48%
Nearly a fourth (24%) of residents say cruising is their preferred vacation type. While the majority of people (63%) plan to go on a cruise of three or more days in the future, 47 percent say they have never been on one.
Top 5 most popular cruise destinations:
Caribbean – 62%
Bahamas/Bermuda – 44%
Alaska – 42%
Mediterranean – 36%
Hawaii – 32%
"River cruises are extraordinarily popular this year along the Danube, Yangtze, and Mekong rivers," Jenkins said. "For ocean cruises, Alaska, the Bahamas, and the Eastern and Western Caribbean remain top destinations."
Tips for Booking a Cruise
Work with a travel agent. They work with cruise lines every day and often have access to added benefits that are not available elsewhere. They can provide clients information on values and savings during certain times of the year—for example when a cruise line is offering extra incentives to sail to a destination, special offers for residents or military personnel, or special promotions for kids to travel, eat or stay free.
January through March is typically the best time to book a cruise. Often referred to as "Wave Season," this provides travelers an opportunity to get some tremendous deals for popular summer cruises to Alaska, Europe and the Caribbean.
Prospective cruise passengers should book early and take advantage of special promotions to secure their first choice of ship, itinerary, cabin location and sailing date.
Before booking a cruise, consider your priorities. There are cruises to match every vacation type – from casual and laid back to formal, high-end luxury and nearly everything in between. A knowledgeable travel agent can help you determine your priorities and identify a cruise line, itinerary and ship to match your lifestyle, budget and destination interests.
Book shore excursions directly through your travel agent when you book your cruise; don't wait until you get to your destination or onboard as many popular activities sell out quickly.
Fly to your embarkation port the day before the cruise, not the morning of departure. Cruise ships have firm departure times and won't wait for a delayed flight.
Check in online before leaving for your cruise. This will save you a lot of extra time at the cruise ship terminal.
About the Survey
The AAA Consumer Pulse™ Survey was conducted online among residents living in the Southern Region of The Auto Club Group (Florida, Georgia, and Tennessee) from January 26, 2015 – February 4, 2015. A total of 1,216 residents completed the survey. The survey has a margin of error of ± 2.8 percentage points. Overall survey responses are weighted by gender and age within state to ensure reliable and accurate representation of the adult population (18+) in Florida, Georgia, and Tennessee.
About The Auto Club Group
The Auto Club Group (ACG) is the second largest AAA club in North America.  ACG and its affiliates provide membership, travel, insurance and financial services offerings to approximately 9 million members across eleven states and two U.S. territories including Florida, Georgia, Iowa, Michigan, Nebraska, North Dakota, Tennessee, Wisconsin, Puerto Rico and the U.S. Virgin Islands; most of Illinois and Minnesota; and a portion of Indiana.
ACG belongs to the national AAA federation with more than 55 million members in the United States and Canada and whose mission includes protecting and advancing freedom of mobility and improving traffic safety.