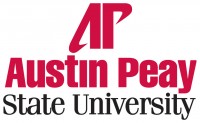 Clarksville, TN – A bright red wave swept across Clarksville last Saturday, March 21st, wiping away debris and litter, and leaving a grateful community in its wake.
That wave consisted of about 500 Austin Peay State University students participating in The Big Event—a day of service that allows students to express their gratitude to the community that supports their University.
"I think our students really want to give back, and those that participated had really awesome experiences," Zac Gillman, APSU Student Government Association president, said.
APSU students spent the day planting flowers at local schools, picking up litter and debris, volunteering in animal shelters, packing food boxes for the homeless and helping out dozens of other local agencies across Clarksville.
"We were the first group to go into Dunbar Cave in six years," Gillman said. "We dug out mud, and now the cave is going to be open to the public in May. That's 100 percent because of our group."
The Big Event is a national service event that started at Texas A&M in 1982 as a way of saying thanks to the residents of Bryan-College Station, Texas. More than 75 Big Events now occur at colleges and universities around the world. Gillman brought the event to APSU this year, and he hopes it will become an annual event for the campus community.
"We have G.H.O.S.T. and Mudbowl in the fall, but we don't do anything in the spring as far as SGA is concerned, except elections," Gillman said. "We don't really have a big signature, traditional event, so that was my main priority as SGA president."
A planning committee was organized earlier this year, and members hoped students would be interested in spending a day doing service work. Three days after the project was announced, more than 300 people had signed up.
"It turned out really good," Gillman said. "Our goal was 500 students this year and we met that. It was crazy, a really good atmosphere with awesome energy. Our goal for next year will be 750 students."