Written by Tennessee State Representative Curtis Johnson
Speaker Pro Tempore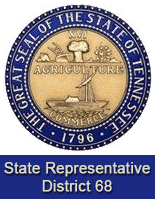 Nashville, TN – House Bill 715, the Tennessee Veterans Education Transition Support Act, would add spouses and dependent children as parties eligible for in-state tuition rates. Since a veteran can assign their benefits to a spouse or children, they would also qualify for these tuition and fee rates.
It would also shift the period of eligibility after discharge for in-state tuition rates from two years to three years. In addition, it requires the Tennessee Higher Education Commission (THEC) to convene the University of Tennessee (UT) and Tennessee Board of Regents systems to review processes related to awarding academic credit to veterans.
This is known as "PLA," or "prior learning assessment'" and ensures that veteran students receive as much academic credit as possible for training or skills obtained during their service.
The bill has passed both Houses and is now on its way to the Governor for his action.