Austin Peay Sports Information

Huntsville, AL – A young Austin Peay State University women's golf team will travel to The Robert Trent Jones Golf Trail at Hampton Cove, Monday-Wednesday, to participate in the 2015 Ohio Valley Conference championship.
The three-day, 54-hole tourney—18 holes per day—will be played on The Highlands Course, a par-72, 6,050-yard layout.
This is the first time the women's tournament has been held at Hampton Cove–the tourney will tee off 8:00am, Monday.
Last year, another Robert Trent Jones Course, The Fighting Joe in Muscle Shoals, served as host.
Although this is the first time the OVC tourney has been played at Hampton Cove, it is not the first time the Lady Govs have played the course. APSU competed in a tri-match at Hampton Cove a year ago that included two current lineup members, junior Jessica Cathey and sophomore Morgan Kauffman.
The rest of APSU's youthful lineup will feature two more sophomores, Morgan Gardner and Kelsey Schutt, and freshman AnnaMichelle Moore. A two-time All-OVC selection, Cathey (76.9 spr) is the only Lady Gov averaging less than 80 strokes per round and has been APSU's best finisher in 7-of-10 tournaments.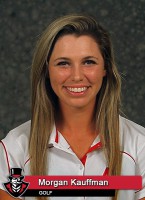 Kauffman (81.20) is APSU's second lowest scorer this season, slightly ahead of Moore (81.73) followed by Gardner (82.61) and Schutt (82.9), although Schutt may be the Lady Govs hottest golfer. She shot a team-best 237, inclouding two sub-80 scores, for three rounds at Murray State and then stormed from behind to win the final qualifying spot for the OVC lineup this week.
"We are excited for the OVC Championship," APSU coach Sara Robson said. "This is the week the players look forward to all year, the week that all our hard work is for. I am so very proud of our players and how hard they work. They have the talent and desire to play well every day."
Often time for a young team to succeed the challenge is to maintain focus with so much on the line.
"We need to play with confidence this week," Robson said. "We need to commit 100 percent to every shot, make sure our tempo stays consistent and compete until the last putt drops."
The Lady Govs played a practice round, Saturday, and will have another Sunday as APSU attempts to better familiarize themselves with the course.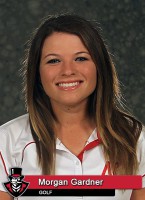 "We have not seen this course in over a year," Robson said. "Saturday we focused on where to be on the course for each hole. Then during Sunday's practice round we will be able to focus on short game, getting the speed of the greens and learning how pitch and chip shots will react on the greens."
Renovated in 2008, The Highlands course was restored to its original Scottish Links design. Long waving grasses frame beautiful rolling terrain with a course rating of 74 and a slope rating of 136.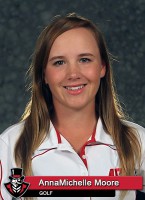 "RTJ golf courses are known for big greens with a lot of undulation," Robson said. "Having an extra day on them will be very beneficial.  We will be looking for the girls to post their best scores of the spring this week; we are looking to play like we did in the fall and give ourselves a good chance to fair well against the competition."
Murray State is the defending champion, coming from six shots behind on the final day to top 2013 champion Eastern Kentucky by two shots.