Austin Peay Sports Information

Des Moines, IA – Sophomore Kaylnn Pitts broke her own school record in the triple jump and Austin Peay's sprint medley relay team posted a top-eight finish as the highlights of Austin Peay State University track and field team's trip to the prestigious Drake Relays.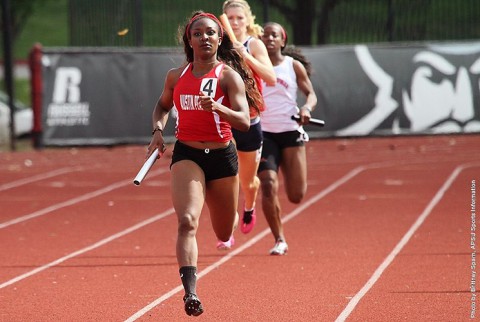 A native of Woonsocket, RI, Pitts won the first flight in the triple jump with a 12.73m leap, surpassing last weekend's 12.71m effort at the APSU Invitational.
She finished second overall, behind only Nebraska's Ellie Ewere, whose 12.85m leap moved her into 12th nationally. Pitts' teammate, Chancis Jones, placed 14th overall and fifth in Flight 1 with an 11.94m leap.
"Really thought our triple-jumpers did well," said head coach Doug Molnar. "Kaylnn was second among collegians and fourth overall, which speaks volumes about what she did today."
Austin Peay's sprint medley relay team of senior Jessica Gray, juniors Breigh Jones and Kymmalett Ross and freshman Sonja White won section one of the event with a school-record 3:56.22 mark, finishing eighth overall. Gray finished ninth overall in the 800m run on Thursday, posting a personal-best 2:09.50 that shaved more than two seconds off her season-best.
"The sprint medley got us going on Saturday," Molnar said. "Anytime you can beat a team like Notre Dame (which finished second in Austin Peay's heat), it's really impressive. White got us off to a good start, Ross had a great 200m split and then Breigh put us in the lead. Notre Dame's final runner caught Jessica with about 200 meters left, but Jessica out-kicked her down the stretch."
Senior Erika Adams (24th, 12.20 in the 100m dash) and sophomore Myiah Johnson (30th, 15.11 in the 100m hurdles) also competed for Austin Peay in one of the nation's most distinguished meets.
Austin Peay will be back in action next week at the Memphis Tiger Invitational.
"We turned it around on Saturday," Molnar said. "We'll get back at it next week for one last go-around before conference."