APSU Sports Information

Martin, TN – Starting pitcher Alex Robles tossed his third complete game of the season and hit a two-run home run to lead Austin Peay State University to an 11-3 Ohio Valley Conference victory against UT Martin, Friday night at Skyhawk Field.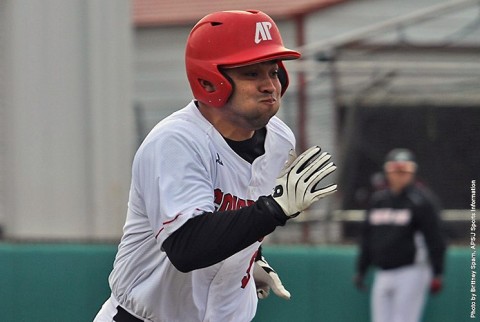 Robles (6-2) notched his sixth consecutive win with the complete-game effort. He held the Skyhawks to five hits and no runs through eight innings.
He would run into trouble in the ninth, ultimately surrendering three runs on three hits and a walk, but finished with two strikeouts and a fly ball to post the complete game. Robles recorded nine strikeouts in the victory, four coming in the final three innings.
Offensively, Austin Peay (23-21, 14-11 OVC) could not solve UT Martin starter Matt Poteete through the first three innings. Yet in the third, Robles would find an answer to his counterpart with a towering two run home run to left field for the game's first runs.
The Govs offense would break out for seven runs in the fifth inning, extending its lead to 9-0. Second baseman Garrett Copeland, first baseman Josh Wilson and right fielder Wesley Purcell each had RBI singles. But it was third baseman Ridge Smith's bases-clearing double that did the inning's biggest damage. Center fielder Chase Hamilton hit a two-run home run in the ninth to extend the lead to 11-0.
Robles went 2-for-4 at the plate and scored three times. Smith went 3-for-5 with three RBI. Austin Peay finished with 11 hits on the night.
UT Martin (13-30, 5-17) was held to eight hits and saw lead off runners wiped out by double plays three times in the contest. First baseman Nico Zych and designated hitter Austin Taylor each went 2-for-4 to pace the Skyhawks offense.
Poteete (2-3) suffered the loss after allowing two runs on three hits and three walks in four innings.
Austin Peay and UT Martin continue their three-game Ohio Valley Conference series with a 6:00pm, Saturday contest that can be seen on the OVC Digital Network.
Box Score
Austin Peay (23-21 / 14-11) -vs- UT Martin (13-30 / 5-17)
| | 1 | 2 | 3 | 4 | 5 | 6 | 7 | 8 | 9 | R | H | E |
| --- | --- | --- | --- | --- | --- | --- | --- | --- | --- | --- | --- | --- |
| Austin Peay | 0 | 0 | 0 | 2 | 7 | 0 | 0 | 0 | 2 | 11 | 11 | 0 |
| UT Martin | 0 | 0 | 0 | 0 | 0 | 0 | 0 | 0 | 3 | 3 | 8 | 2 |
W: ROBLES, Alex (6-2)    L: POTEETE, Matt (2-3)
Austin Peay 11
| | Player | AB | R | H | RBI | BB | SO | LOB |
| --- | --- | --- | --- | --- | --- | --- | --- | --- |
| 3b | SMITH, Ridge | 5 | 1 | 3 | 3 | 0 | 0 | 2 |
| lf | BREDLAU, Cayce | 5 | 0 | 0 | 0 | 0 | 1 | 1 |
| 2b | COPELAND, Garrett | 4 | 1 | 1 | 1 | 1 | 1 | 0 |
| 1b | WILSON, Josh | 4 | 2 | 1 | 1 | 1 | 0 | 0 |
| p | ROBLES, Alex | 4 | 3 | 2 | 2 | 1 | 0 | 2 |
| cf/rf | MASSONI, Patrick | 4 | 0 | 0 | 0 | 1 | 0 | 0 |
| rf | PURCELL, Wesley | 3 | 1 | 2 | 1 | 0 | 1 | 0 |
| cf | HAMILTON, Chase | 2 | 1 | 1 | 2 | 0 | 0 | 0 |
| c | MARIK, T.J. | 4 | 1 | 1 | 0 | 1 | 2 | 0 |
| ss | WILLIS, Imani | 3 | 1 | 0 | 0 | 2 | 1 | 2 |
| | Totals | 38 | 11 | 11 | 10 | 7 | 6 | 7 |
Batting
2B:SMITH, Ridge (1)
HR:ROBLES, Alex (1); HAMILTON, Chase (1)
Baserunning
SB:SMITH, Ridge (1); COPELAND, Garrett (1); MASSONI, Patrick (1)
UT Martin 3
| | Player | AB | R | H | RBI | BB | SO | LOB |
| --- | --- | --- | --- | --- | --- | --- | --- | --- |
| lf | CASTILLO, Andrew | 4 | 1 | 1 | 0 | 0 | 1 | 0 |
| ss | HIRSCH, Matt | 3 | 1 | 0 | 0 | 1 | 1 | 0 |
| rf | DOUGLAS, Taylor | 4 | 1 | 1 | 2 | 0 | 0 | 0 |
| 1b | ZYCH, Nico | 4 | 0 | 2 | 1 | 0 | 2 | 0 |
| dh | TAYLOR, Austin | 4 | 0 | 2 | 0 | 0 | 2 | 0 |
| 2b | PRIBBLE, Nick | 4 | 0 | 1 | 0 | 0 | 2 | 0 |
| 3b | DEASON, Jake | 4 | 0 | 1 | 0 | 0 | 0 | 2 |
| c | NANTZE, Mikey | 3 | 0 | 0 | 0 | 0 | 0 | 1 |
| cf | JOHNSON, Fletcher | 2 | 0 | 0 | 0 | 1 | 1 | 1 |
| p | POTEETE, Matt | 0 | 0 | 0 | 0 | 0 | 0 | 0 |
| p | SCHAENZER, Cole | 0 | 0 | 0 | 0 | 0 | 0 | 0 |
| p | FLORES, Chris | 0 | 0 | 0 | 0 | 0 | 0 | 0 |
| p | STEVENS, Quinton | 0 | 0 | 0 | 0 | 0 | 0 | 0 |
| | Totals | 32 | 3 | 8 | 3 | 2 | 9 | 4 |
Batting
2B:CASTILLO, Andrew (1); DOUGLAS, Taylor (1); ZYCH, Nico (1); PRIBBLE, Nick (1)
Fielding
E:DEASON, Jake (1); FLORES, Chris (1)