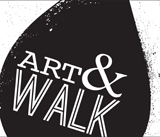 Clarksville, TN – Produced by The Downtown Clarksville Association, First Thursday Art Walk is a free, self-guided tour spanning a 5-block radius that combines visual art, live music, engaging events and more in the heart of Downtown Clarksville.
With 10+ venues, bars and businesses participating each month, the First Thursday Art Walk in Clarksville is the ultimate opportunity to savor and support local creative talent.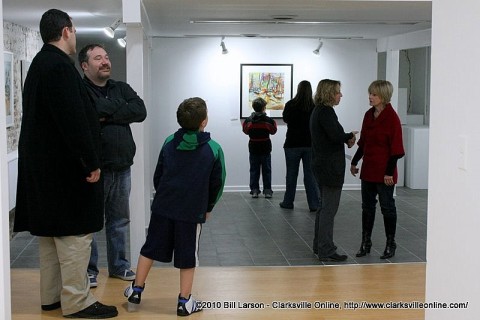 The May Art Walk will be held May 7th from 5:00pm to 8:00pm at the shops and galleries on Public Square, Franklin Street, and Strawberry Alley.
The participating businesses are listed below as well as a description of the work they will be exhibiting and services they will be offering during the event.
The Downtown Artists Co-op (96 Franklin Street)
The DAC is an association of talented local artists and interested patrons dedicated to promoting the visual arts in the Clarksville/Montgomery County area.
Our objectives are to sponsor art exhibitions of work by Co-op members and regional artists, to provide continuing support for the Co-op and its membership through the sale of art work, to encourage arts education with outreach programs and scholarship fundraisers, and to develop membership services which directly support the arts community.
Artist Information
Downtown Artists Co-op (DAC) is proud to announce an exhibit of fine art by Leslie Campbell and Steven Walker. The opening reception for this extraordinary exhibit will be on May 7th from 5:00pm till 8:00pm.
Leslie Campbell grew up in Massachusetts and attended North Adams State College (hence renamed the Massachusetts College of Liberal Arts). She taught Middle School Art for several years. Leslie says "The classroom was a great creative outlet for me but I always wanted to create more!" Leslie married her high school sweetheart and moving around became a part of her "crazy military life."
She goes on to say, "We have been stationed in some wonderful places and have watched our two boys grow up around different cultures. Not only did this influence their lives in a positive way, it shaped us as a strong family unit and it has created an endless supply of inspiration for me as an artist."
"Most of my work features a woman on some sort of journey in life" says Leslie. "I consider my work to be mixed media in which a found image gets layers and layers of paint, colored pencils, charcoal, oil pastels, textiles, and papers until I've created the perfect scene."
Steven Walker is a fourth generation Texan who grew up in Seguin, TX. As a young child, Walker developed his love for art as a result of his mother often taking him to galleries and museums. Walker attended Texas State University in San Marcos, but didn't complete his degree at that time. Nevertheless, twenty-seven years later Walker returned to college to complete his BFA in studio arts at Austin Peay State University in Clarksville, Tennessee, where he still lives and works.
It's been said that Steven M. Walker's artwork contains rich, striking colors and imagery that prompts thoughtful conversations and meditations while transporting the viewer into landscapes and scenes of metaphysical awareness. Through Walker's creative process that combines freedom and insight; he succeeds in giving the viewer a profound and inspiring body of work.
The DAC will be serving up delicious appetizers, punch and wine for the opening.
As always, the DAC opening is a central part of Clarksville's "First Thursday Art Walk", a wonderful evening of art, music and more in beautiful Historic Downtown Clarksville. First Thursday Art Walk occurs regularly on the first Thursday of each month.
DAC will be open Noon-4:00pm, Wednesday-Friday and 10:00am-6:00pm on Saturday. See our website at www.downtownartistsco-op.com or visit us on Facebook for more information.
This month's exhibit is on display May 6th-30th and is sponsored by The Framemaker, Sango Fine Wines and Spirits and a number of our other patrons and sponsors.
F & M Bank (50 Franklin Street)
Artist Information
F&M Bank is proud to host local artist, Larry Martin in the Franklin Room from 6:00pm – 8:00pm during the May First Thursday Art Walk.
Richly colored jazz paintings, bold and dynamic abstracts, cool and serene landscapes, peaceful and sometimes stormy seascapes, sunrise. sunset, strange and odd combinations that pop! These are some of the varied subject matter that I present in oil, acrylic and watercolor mediums.
Ever wonder what you'll do when you retire? Well, painting was probably not on my bucket list, but thanks to our daughter it has become an important and rewarding part of my daily life. Following her tip about free classes at State Universities in Tennessee for Seniors, I began painting at age 65 and sold my first painting at a gallery for $1800.00! That was the beginning of my art career – the year was 2004 and my age was 66. —-The band was playing 'Who'd-a-thought-it'.
Having been a never-gave-up-my-day-job musician, playing in bands and piano bars from Boston to Bangkok for most of my adult life, I was initially drawn to Jazz renditions, and later got into abstracts, landscapes, seascapes and Florals. I say that painting is kind of like playing bridge, another of my retirement pastimes – I became a Bronze Life Master in 2012. Each painting, like each bridge hand, is different and you never play the same hand or paint the same painting twice. That's what keeps you coming back, the challenge of creation and the belief that it will be worth it. I hope you enjoy my art as much as I enjoyed creating it!
The Roxy Regional Theatre
Peg Harvill Gallery (100 Franklin Street)
For those who enjoy the visual arts, the Peg Harvill Gallery, located just beyond the lobby, hosts twelve shows annually featuring locally and nationally known artisans. Shows generally open the first Thursday of each month for our First Thursday Art Walk.
Artist Information
The Roxy Regional Theatre's Peg Harvill Gallery will once again feature the work of local artist Beverly Parker during the May First Thursday Art Walk.
Gallery hours during Art Walk will be 5:00pm – 6:30pm due to a performance of "Mary Poppins". Additional gallery hours are Monday through Friday, 9:00am – 2:00pm.
For tickets to and information about our current productions of "Mary Poppins" please visit www.roxyregionaltheatre.org or call the box office at 931.645.7699.
The Gilroy Neighborhood Pub (140 University Avenue)
Continue your evening of Art Walk down Franklin Street and stop in The Gilroy for a refreshing beverage and a great meal.
After Walk Party at The Gilroy…
2-4-1 Drafts til midnight, 2-4-1 Cocktails til 10:00pm
Customs House Museum (200 S. 2nd Street)
The Customs House Museum and Cultural Center is Tennessee's second largest general interest museum. It features fine art, history, and children's exhibits.
Exhibits
Southern Watercolor Society's 38th Annual Juried Exhibition  May 12th – July 5th
Ed Nash: Exploration  May 1st – 31st
This Exhibit Sponsored by Nashville Arts Magazine
Go Figure!  March 1st – June 14th
Developed by Minnesota Children's Museum in partnership with the American Library Association and supported by the National Science Foundation.
The Creative Gilmans  March 5th – May 10th
The Art of Flying High  May 1st – 31st
Preview some of the art that will be available for auction at our annual fundraiser Flying High, on display in the lobby.
The Framemaker (705 North Second Street)
Artist Information
The Framemaker proudly presents "Light Intertwined: New Work by Peggy and Stuart Bonnington" This exhibit is part of Clarksville's First Thursday Art Walk on May 7th, 2015. An opening reception will be held from 5:00pm to 8:00pm. The exhibit will remain on display at The Framemaker throughout the month of May during normal business hours (Monday through Friday 10:00am – 5:00pm).
Stuart and Peggy Bonnington are a husband-and-wife team of artists. They married in Peggy's hometown, Chattanooga Tennessee, and moved to Clarksville, Tennessee, in 1987. Together, the couple's work shows how they find light and balance in life through joyful dedication.
Stuart Bonnington was born in Leeds in Yorkshire, England. He was raised from age two in Rochester, NY. He took a job as a psychology professor at Austin Peay State University (APSU) in 1987. Stuart plays the banjo and guitar and is an accredited teacher of Qigong and Tai Chi. He teaches classes at the Cabin Studio at his historical home, "Benfolly," as well as at the Foy Center at APSU, the Crowe Center and The Yoga Mat. He is retiring from APSU this spring.
Peggy Bonnington gravitates toward the unfettered creativity of unconsciously wandering lines, an intuitive stroke of color and impulsive shading. Peggy taught special education with Fort Campbell Schools. She retired in 2008. Peggy is an active member of the DAC (Downtown Artists' Co-op.) According to the artist, "I seek to become more comfortable and adept with paint and brush, but lately I am enjoying exploring a merger of painting with drawing."
The Framemaker is located at the corner of North Second Street and Georgia Avenue, across from the Clarksville Academy.
Rogate's Boutique (115 Franklin Street)
Artist Information
Rogate's Boutique will stay open late during the May First Thursday Art Walk. Stop in and check out the great ways to transition your wardrobe from Spring to Summer!
Mildred & Mables (109 Franklin Street)
Mildred and Mable's will stay open late during the May First Thursday Art Walk. Stop in and check out all of the great gift and clothing options to swing you straight into Summer!
Couture Crush (101 Franklin Street)
Couture Crush will stay open late for the May First Thursday Art Walk.
Stop in and see all the great offerings to transition your wardrobe and accessories this Spring!
Cloud 9 (136 Franklin Street)
Art Walk Special
Cloud 9 is happy to join in the festivities of the May First Thursday Art Walk.
Stop in and enjoy a cup of coffee and dessert for just $6.00. Take advantage of the evenings special wines and martinis for just $5.00 and well as their featured appetizer specials!
Hops Road (101 Strawberry Alley)
Artist Information
Hops Road, located on Strawberry Alley in Historic Downtown Clarksville, is proud to join the May First Thursday Art Walk. Stop in, grab a bit to eat and check out some of the great local artists that Clarksville has to offer.
Edward's Steakhouse (107 Franklin Street)
Artist Information
Edward's Steakhouse is proud to host local artist, Susan Liberatore and her show, Visions2images, during the May First Thursday Art Walk.
My three greatest strengths are invitations, design, and photography. I am always up for a challenge and find it rather hard to say no to a design project since they always lead to artistic and personal growth. I am always up for a challenge that is outside of my comfort zone.
I enjoy creating branding identities. Branding identities go beyond the basics of a logo and letterhead, it is the brand that is everywhere around us. The feeling when a brand is recognized in print, web, and digital media is one of the greatest feelings.
My favorite projects I have done thus far are creating event-specific invitations, cards, and stationary. Creating these cards is right up my alley, I always love attending events and looking at the completed design. These cards created serve as a memorable keepsake that can be used later to remember the event.
I am at my creative peak when problem solving, rising new challenges, and leaving my comfort zone. These situations force me to think in new ways, and I am always pleased with the results. I intend to continue to push my limits in an effort to create even more inspired work.