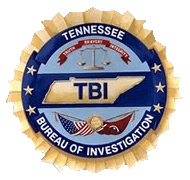 Knoxville, TN – Special Agents from the Tennessee Bureau of Investigation have obtained indictments for an inmate in the custody of the Tennessee Department of Correction in connection to a mailed threat targeting an Assistant District Attorney General.
On February 18th, TBI Agents began investigating an incident which occurred at the Sevierville office of District Attorney General James Dunn.
Earlier that day, an employee of the office opened a letter from inmate Mark Rhodes, which contained a suspicious white powder and threats targeting an Assistant District Attorney General who previously prosecuted a case involving Rhodes.
During the course of the investigation, Agents, working alongside investigators from the Federal Bureau of Investigation, developed information verifying Rhodes as the individual who sent the letter from prison.
On Monday, the Lauderdale County Grand Jury returned indictments for the 43-year-old, charging him with one count of Distribution or Delivery of a Substance as a Hoax, one count of Retaliation for Past Action, and three counts of False Report. Rhodes is currently in custody at the West Tennessee State Penitentiary in Henning.