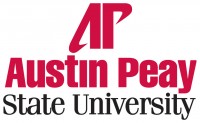 Clarksville, TN – Austin Peay State University featured twirler Hannah Johstono has demonstrated her talent and skill with a baton in front of crowds both large and small during her 14 years of twirling.
A regular with the Governor's Own Marching Band for the past four seasons, Johstono has captivated everyone from APSU fans gathered in Governor Stadium's Tailgate Alley to 100,000 fans at Neyland Stadium as the Governors took on the University of Tennessee Volunteers.
In mid-May, Johstono also proved she could win over a panel of judges when the elementary education major captured the title of "Miss College Majorette of Tennessee" at the Tennessee State Twirling Championships.
A former competitive twirler, Johstono's priorities have been the Governor's Own Marching Band and her studies since arriving at APSU. But Johnstono said a chance phone call from a former APSU twirler reignited her competitive spark.
"In April, (APSU Band Director John Schnettler) got a call from an alumnae feature twirler named Margie Beasley who asked if he had anyone who would be interested in representing APSU at the Miss Majorette competition," Johstono said. "I figured it would be a great opportunity to both compete one last time, as well as get APSU's name out there among the twirling community."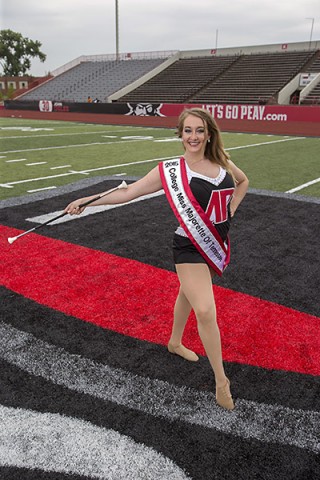 With just one month to prepare, Johstono quickly got to work. While most competitors spend months preparing and often utilize twirling routines from teachers or other experts, Johnstono said she put together her performance from scratch.
"I think the really surprising thing was that it ended up being a really good routine," Johstono joked. "Margie helped me a lot by watching my routines and offering advice, but creating my own routine was definitely a first for me."
Johstono's routine – as well as her personality and overall presentation – wowed the judges, as the 22-year-old twirler won the first competition she had entered in five years. The previous competition, interesting enough, had been Miss Majorette of Georgia.
Up next for Johstono is the National College Twirling competition, a weeklong event held July 20-25 at the University of Notre Dame in South Bend, Indiana.
Johstono has been hard at work preparing, splitting time between Clarksville, her home of Macon, Georgia, as well as a twirling coach in Auburn, Alabama. Training has been a daily routine for Johstono, who said she hits the gym up to six days a week.
"Depending on what I'm doing that day, I'm spending at least an hour and a half working my lower body and core to prepare for my competition routines," Johstono said. "And to train for my routines, I'm finding a gym or a tennis court or anywhere I can to practice my twirling routines."
While Johstono said the competition bug has bitten her again, the senior was quick to note that her first love is still preforming for Austin Peay fans and opponents alike. After she returns from Indiana, she plans to launch into preparations for the upcoming football season.
"I like competing, but I'll be so busy with marching band and my education that I'm not sure I'll have time (to compete again)," Johstono said. "And honestly, marching band is so much fun that it's not a hard job for me."
"My forte is performing and being the feature twirler for the marching band at APSU really lets me be that person who puts on a show for people."