APSU Sports Information

Clarksville, TN – Austin Peay State University men's golf team has added a pair of talented Florida natives for the 2015-16 season.
Alex Rios, a Coral Springs, FL, native who played as a freshman at Coker College, has transferred to the University while Sean Butscher, a Tallahassee, TN native who prepped at Lincoln High School and has been tutored by an APSU alum, has signed scholarship papers to play for the Governors.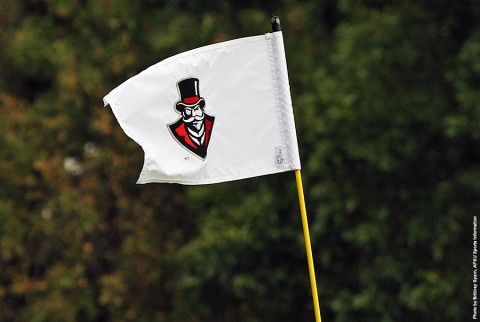 As a freshman, Rios competed in all 26 rounds for Coker, finishing with a season scoring average of 75.3.
He earned first-team South Atlantic Conference all-tournament after finishing in fourth place individually with a two-day 148 score. His season's best round (67) came during the second round of the Lander Bearcat Golf Classic on March 24th.
He was a two-year member of the American Heritage High School golf team, Rios helped the Patriots to a first place-finish at the 2012 Florida High School Athletic Association State Championship and a second place finish at the 2013 FHSAA State Championship.
"Even though he is only a sophomore, Alex brings immediate experience to our roster," Wilson said. "As a freshman, Alex competed in all 10 tournaments last season at Coker College. He has shown the ability to go low and is a good fit for our program."
Butscher was a four-year member of the Lincoln High, leading the team in stroke average for the past three seasons. As a sophomore and junior he advanced to Florida High School Regional competition as an individual and led his team to regional level as a senior.
"Sean will be our only freshman for the 2015-16 season," APSU coach Robbie Wilson said. "He comes from Tallahassee, where he has developed his game under former Austin Peay golfer and current teacher, John Elliott. Sean is very talented and his best days are ahead of him."
During the past two years, Butscher was selected to compete in the Panhandle Cup, a Ryder Cup-style competition pitting the best eight male and four female players from the east and west Florida Panhandle regions.
Butscher qualified and participated in the last four Florida State Golf Association Boys Junior tournament. He also played in numerous Florida Junior, Southeastern Junior, United States Golf Association (USGA), and Florida State Golf Association (FSGA), independent tournaments and qualifiers.
During his junior days, he recorded a second-place finish in the Rocky Bayou Junior Classic (73-72 145), a sixth-place finish in the Dothan (AL) Country Club Junior (78-71 149) and a fifth-place finish in Doublegate (GA) Junior Classic (73-76 149).  He recently finished tied for second (77-72=149) in defense of his 2014 title in the Jim Yancey Junior in Ocala, FL, at the Country Club of Ocala and Golden Ocala Golf and Equestrian Club, respectively.