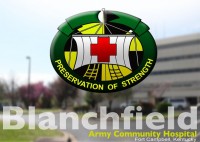 Fort Campbell, KY – Blanchfield Army Community Hospital's (BACH) patient care teams expect Fort Campbell to begin providing the flu vaccine to families within the Patient-Centered Medical Homes early October.

Preventive medicine staff members have worked with other BACH staff to offer the vaccine in multiple venues again this year.

"We are offering the influenza vaccine in multiple venues, hoping to make it easily accessible to individuals who do not want to make a doctor's appointment off post or may just be putting off getting the vaccine. It is our hope that seeing others receiving the vaccine will encourage the majority of our population to take advantage of this free, but extremely beneficial benefit," said chief of BACH Preventive Medicine Maj. John Downs.

BACH typically begins providing the flu vaccine to the larger beneficiary population in October.

"We encourage everyone to take advantage of receiving the vaccine as early as they can; however, for individuals to receive the most protection it is recommended that this region receives the vaccine between October and December," said Downs.

Active duty Soldiers preparing to deploy are receiving the first vaccines. Once additional vaccine shipments arrive, patients enrolled to any of the BACH medical homes, including Air Assault, Young Eagle, Gold, Byrd Combined Soldier and Family, LaPointe Soldier, Aviation, and Screaming Eagle Medical Homes, will be able to receive the vaccine during scheduled appointments. Patients assigned to BACH may also receive the vaccine without an appointment during walk-in hours within their assigned medical home.

BACH's preventive medicine team also plans to offer the influenza vaccine to all TRICARE beneficiaries with a military ID card during six public events. The following events begin in late September and end in late October.
Retiree Fair at the Soldier Readiness Center (former Commissary): 8:00am to 2:00pm, Saturday, September 19th
Town Center Pharmacy:  9:00am to 3:30pm Friday, October 2nd
Commissary:  9:00am to 3:30pm Thursday, October 15th and Tuesdat, October 27th
Post Exchange:  9:00am to 3:30pm Friday, October 16th and Saturday, October 24th
In addition, BACH's Preventive Medicine team will work in conjunction with staff throughout Fort Campbell Schools to offer the vaccine to students during the school day in November.
Patients Assigned to Providers Outside of BACH
Patients assigned to a network primary care provider (off post) who choose not to attend one of the community outreach flu campaign events, should ask to receive the flu vaccine from their assigned primary care manager (PCM). If their assigned healthcare provider does not offer the flu vaccine as a TRICARE-covered benefit, patients may receive the influenza vaccine with no copayment at participating retail network pharmacies. To find a participating pharmacy, visit www.express-scripts.com/TRICARE/pharmacy, or call 1.877.363.1303, option 5.
As a standard safety precaution, people can also avoid getting or spreading the flu virus by washing their hands regularly and covering their cough or sneeze with a tissue or their sleeve, instead of into their hands.
Sections
News
Topics
Air Assault Medical Home, Bach, Blanchfield Army Community Hospital, Flu Vaccine, Fort Campbell, Fort Campbell KY, Fort Campbell Post Exchange, Gold Medical Home, LaPointe Soldier Medical Home, Screaming Eagle Medical Home, Town Center Pharmacy, Young Eagle Medical Home