Tennessee Titans (1-1) vs. Indianapolis Colts (0-2)
Sunday, September 27th, 2015 • Noon CDT
Nashville, TN | Nissan Stadium  | TV: CBS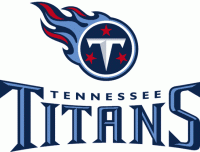 Nashville, TN – The Tennessee Titans (1-1) play their first home game of the 2015 regular season this week against the Indianapolis Colts (0-2). Kickoff at Nissan Stadium (capacity 69,143) is scheduled for noon CDT on Sunday, September 27th.
The game begins a rare span for the Titans that includes four home games and a bye. The next away game the Titans will play is November 1st at Houston, giving them five weeks during the regular season without a road contest. In the 56-year history of the organization, that has happened only three previous times: 1960, 1964 and 1967.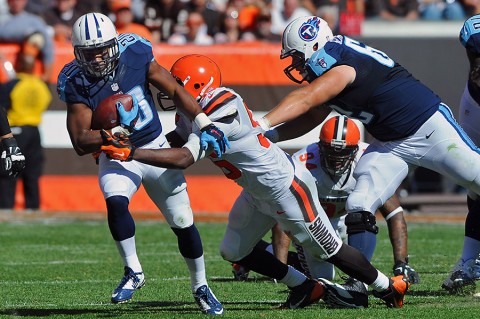 Fans attending the game are encouraged to participate in the LP PENCIL Box School Supply Drive. LP PENCIL Box, a collaborative non-profit venture between PENCIL Foundation and LP Building Products, offers Nashville Metro teachers the opportunity to acquire school supplies for the city's most in-need children.
Collection locations will be positioned outside of Nissan Stadium to collect items from erasers and pencil boxes to hand sanitizers, colored pencils, pens and rulers.
This week's game will be televised regionally on CBS, including Nashville affiliate WTVF NewsChannel 5. Tom McCarthy will handle play-by-play duties alongside analyst Adam Archuleta.
The Titans Radio Network, including Nashville flagship 104.5 The Zone, will carry the game across the Mid-South with the "Voice of the Titans" Mike Keith, analyst Frank Wycheck, gameday host Rhett Bryan and sideline reporter Jonathan Hutton.
Additionally, Westwood One Sports will broadcast the Titans-Colts game to a national audience. Kevin Lee (play-by-play) and Ross Tucker (analyst) will have the call.
Tennessee Titans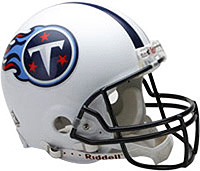 The Titans found success in Week 1 of the season, traveling to Tampa Bay to get a 42-14 win over the Buccaneers. In Week 2, however, they were unable to discover the same formula in Cleveland and ultimately fell to the Browns by a final score of 28-14.
The Browns tallied the game's first 21 points, keeping the Titans off the scoreboard until the third quarter. Titans quarterback Marcus Mariota got his team back in the game with touchdown passes of 19 yards to tight end Anthony Fasano and 13 yards to wide receiver Dorial Green-Beckham, but it was not enough to overcome three total touchdowns by Browns receiver Travis Benjamin (two receiving touchdowns, one punt return for a touchdown) and three takeaways by the Browns defense.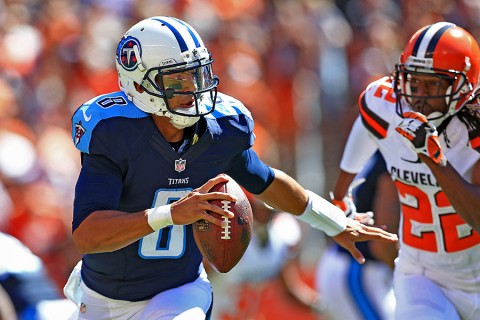 Through his first two pro games, Mariota has completed 34 of his 53 pass attempts for 466 yards. The second pick in the 2015 NFL Draft has six touchdown passes and zero interceptions, giving him an NFL-best passer rating of 129.9. It is the highest rating by any Super Bowl-era quarterback (since 1966) in his first two career starts.
Also, Mariota's six touchdown passes are the most in NFL history in a quarterback's first two career games. Only four previous quarterbacks had ever completed as many as five touchdown tosses in their first two contests: Johnny Green (Buffalo, 1960), Greg Cook (Cincinnati, 1969), Mark Rypien (Washington, 1988) and Gus Frerotte (Washington, 1994).
Indianapolis Colts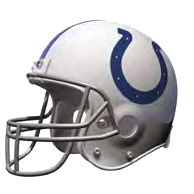 The Colts opened the season with a 27-14 road loss at the hands of the Buffalo Bills. They are scheduled to host the New York Jets on Monday Night Football in Week 2 prior to visiting Tennessee on September 27th.
Colts head coach Chuck Pagano and quarterback Andrew Luck are in their fourth season together in Indianapolis. The Colts finished 11-5 and earned playoff berths in each of their first three seasons, including 2014, when they won the AFC South and made it to the AFC Championship Game.
Luck joined Dan Marino and Peyton Manning as the only players to pass for 4,000 yards in two of their first three campaigns. He also led the NFL with 40 touchdown passes in 2014, and his 86 touchdown passes in his first three years rank second in history behind Marino.
Luck is one of several players for Indianapolis with Pro Bowl experience. Two more Pro Bowl weapons were added during the offseason via free agency: former San Francisco 49ers running back Frank Gore and former Houston Texans wide receiver Andre Johnson.
Titans-Colts Series At A Glance
Overall series (regular & postseason): Colts lead 27-14
Regular season series: Colts lead 27-13
Postseason series: Titans lead 1-0
Total points: Titans 776, Colts 1,036
Current streak: Seven wins by Colts
Titans at home vs. Colts: 7-11
Titans on road vs. Colts: 7-16 (including 1-0 in playoffs)
Longest winning streak by Titans: 3 (twice, last 1999–2002)
Longest losing streak by Titans: 7 (twice, last 2011–2014)
Titans vs. Colts at Nissan Stadium: 4-9
Last time at Nissan Stadium: COLTS 27 at Titans 10 (12-28-14)
Titans vs. Colts at Lucas Oil Stadium: 0-7
Last time at Lucas Oil Stadium: Titans 17 at COLTS 41 (9-28-14)
First time: COLTS 24 at Oilers 20 (10-11-70)
Ken Whisenhunt's record vs. Colts: 0-3
Chuck Pagano's record vs. Titans: 6-0
Ken Whisenhunt's record vs. Chuck Pagano: 0-2
A Titans Victory Would
Improve the Titans' record to 10-7 in regular-season home openers at Nissan Stadium.
Improve the Titans' all-time regular-season record at Nissan Stadium to 74-55.
Improve Marcus Mariota's record to 2-1.
Improve Ken Whisenhunt's career record as a head coach to 53-68 (including playoffs).
What To Look For This Week
The Titans begin a span of five weeks without a road game, including four home games and a bye.
TE Anthony Fasano (2,901 career receiving yards) needs 99 receiving yards to reach 3,000 for his career.
S Michael Griffin needs one interception to become the ninth player in franchise history to reach 25 career interceptions.
WR Justin Hunter needs 103 receiving yards to reach 1,000 career receiving yards.
QB Marcus Mariota can become the first quarterback in franchise history to start the first three games of his rookie season.
OLB Derrick Morgan can record his third consecutive game with at least one sack, marking the first time in his career to accomplish the feat. He would be the first Titans defender to record at least one sack in a season's first three games since Will Witherspoon in 2010.
TE Delanie Walker (249 career receptions for 2,969 yards) needs one reception to reach 250 for his NFL career and 31 yards to reach 3,000 for his career.
Titans-Colts Series History
This week's game will mark the 42nd all-time contest between the Titans and Colts. The Colts lead the series 27-14.
The Colts currently own a seven-game winning streak over the Titans, including sweeps in 2012, 2013 and 2014. The last time the Titans won was October 30th, 2011. The seven-game losing streak is the Titans' longest current winless skid against any NFL team.
In the first meeting of 2014, played on September 28th at Lucas Oil Field, the Colts overpowered the Titans by a final score of 41-17. Andrew Luck passed for 393 yards and four touchdowns, while the Colts defense forced three turnovers.
The last time the teams met at Nissan Stadium was the 2014 season finale, when Luck and Matt Hasselbeck combined to pass for 315 yards and three touchdowns in a 27-10 Colts victory.
The Titans and Colts have met only once in the postseason, a 19-16 Titans victory in a Divisional Playoff game in the RCA Dome on January 16th, 1999.
Eddie George rushed for 162 yards, including a 68-yard touchdown run to help lead Tennessee during its run to Super Bowl XXXIV.
The teams first clashed in 1970 following the AFL-NFL merger. The then-Baltimore Colts defeated the then-Houston Oilers 24-20 during the Colts' run to a Super Bowl V Championship.
Titans-Colts: The Last Meeting
Indianapolis Colts 27 at Tennessee Titans 10
December 28th, 2014
Nissan Stadium, Nashville, TN
| | | | | | |
| --- | --- | --- | --- | --- | --- |
| | 1 | 2 | 3 | 4 | Final |
| Indianapolis Colts | 7 | 10 | 0 | 10 | 27 |
| Tennessee Titans | 0 | 7 | 3 | 0 | 10 |
Colts quarterbacks Andrew Luck and Matt Hasselbeck combined to pass for 315 yards and three touchdowns, helping the AFC South Champions defeat the Titans 27-10 in the regular season finale at Nissan Stadium.
Having already clinched the division title and secured their playoff seeding, the Colts jumped out to a lead in the first half and held on with several backups in the second half. Luck played until halftime and was 10-of-16 for 160 yards with two touchdowns and no interceptions (135.4 passer rating) before turning the duties over to backup Hasselbeck. Hasselbeck completed 13 of his 19 attempts for 155 yards and a score (110.6 passer rating).
Once the Colts built a lead, their defense made sure the Titans were unable to climb back. The Titans totaled a season-low nine first downs and were four-of-16 (25 percent) on third down. While the offense was boosted by 142 team rushing yards, Titans quarterback Charlie Whitehurst was sacked four times and pressured throughout the afternoon. He was 12-of-28 for 72 yards and a touchdown.
The Colts' initial score came after taking possession in Tennessee territory on their second drive. A 13-yard punt return by Josh Cribbs plus a five-yard penalty on the Titans put the ball at the 44-yard line. Luck converted a third-and-11 with a 26-yard pass to running back Daniel Herron, and three plays later, Luck located tight end Coby Fleener for a seven-yard touchdown.
In the second quarter, Colts wide receiver Reggie Wayne made an athletic grab on the sideline and turned upfield for an 80-yard gain. He was tackled at the one-yard line, but on the next play, tight end Jack Doyle caught Luck's second touchdown pass to make the score 14-0 six minutes into the second quarter.
However, the Titans came right back with their only touchdown of the game. Leon Washington returned the kickoff 52 yards, and running back Shonn Greene got the offense inside the 10-yard line with a 17-yard run. On third-and-goal from the six-yard line, Whitehurst connected with Kendall Wright on a touchdown pass that made the score 14-7.
Not to be outdone, Colts returner Josh Cribbs set up a score with a long return of his own, taking the ensuing kickoff back 76 yards. The Colts drove as far as the five-yard line before settling for a 23-yard field goal by Adam Vinatieri.
Tennessee was first to score in the second half. Greene converted a fourth-and-one with a career-long 52-yard run, the largest chunk of his 11-carry, 94-yard day. However, the Indianapolis defense stiffened, and the Titans settled for a 31-yard field goal by Ryan Succop.
It would be the end of the scoring for the Titans, as they were prevented from registering another first down for the rest of the game. With Hasselbeck directing the Colts, they added 10 points in the fourth quarter—the first three points on a 26-yard field goal by Vinatieri. Later, Hasselbeck rounded out the day's events with an eight-yard touchdown toss to Fleener.