Fort Campbell, KY – Campbell Crossing, on behalf of the Lend Lease (US) Community, would like to invite Fort Campbell Soldiers and their families to attend the Nashville Connection- Heroes Salute Concert being held at The Nashville Palace on October 17th.
The Heroes Salute Concert is the finale to a five day, star studded event combining love of music and support for the military, with all proceeds benefiting military organizations.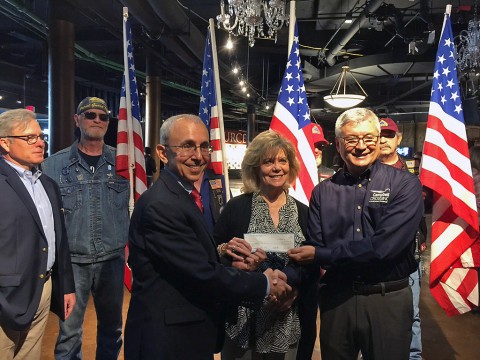 "It is an honor and a privilege for Campbell Crossing to be a part of this event," said Mike Goodwin, project director for Campbell Crossing. "Thanks to the Lend Lease (US) Community Fund, we were able to donate $4,000 to go towards providing free concert tickets for Fort Campbell's Soldiers and families so they can enjoy a fun-filled night in Nashville."
Those who attend this event will get to enjoy a great line-up of artists featuring country music artist Wade Hayes, the Nashville Connection-Heroes Salute competition winners, the Pfeiffer Twins, the 40 West Band and more!
You won't want to miss this! Be sure to pick up your FREE tickets at the MWR Travel and Leisure office. Tickets are available on a first come first serve basis.
To find out more about this event, please visit www.thenashvilleconnection.com/heroes-salute-concert.php
About Campbell Crossing
Campbell Crossing LLC, the partnership between developer Lend Lease and the Department of the Army, is the premier housing community for the Soldiers and families of the 101st Airborne Division (Air Assault) and home to the first zero-energy homes project ever constructed on a military installation.
Lend Lease took over operations of Fort Campbell's on-post housing in 2003 as part of the Military Housing Privatization Initiative (MHPI), a program aimed at improving the quality of life for Soldiers and their families. Since then, the Community has received numerous recognitions, including the Army's 2012 RCI Project of the Year, National Association of Home Builders (NAHB) National Green Building Award and the National Council for Public-Private Partnerships Innovation Award. Lend Lease will own, manage, renovate, develop, and sustain the more than 4,500 homes of Campbell Crossing until 2053.
For more information visit www.campbellcrossingllc.com
About Lend Lease (US) Community Fund
Lend Lease (US) Community Fund is a nonprofit organization that focuses its efforts on supporting the Military men and women who live in our homes and neighborhoods and the communities where Lend Lease employees work and live. We support growth and development by funding projects that address community challenges in the areas of housing, education, health, economic development, and environmental sustainability and create or support programming that improves the quality of life for Military families who sacrifice so much for us.
For more information on supporting our efforts, please log onto www.lendlease.com