APSU Sports Information

Clarksville, TN – Austin Peay State University women's golf team will be playing in the final group, Tuesday, on the final day of the 17th Annual F&M Bank APSU Intercollegiate at the Clarksville Country Club.
The Lady Govs are tied for second, eight shots behind Lipscomb, after shooting a first-round 313, Monday.
Tennessee Tech also fired a 313 while Belmont is in fourth (319) and Murray State fifth (322) in the eight-team event on the 5,974-yard, par-72 layout.
"We are there, we are in the final group—that's where we want to be, although we have quite a bit of ground to make up," APSU coach Sara Robson said. "It's the best place to be if you want to win. We can shoot 300 out here, we do it in qualifying."
The course played long—because of increasing winds during the way—and slow, the course lined with trees saw balls temporarily lost, especially if hit into the rough. The greens played fast, resulting in a multitude of three putts.
"We struggled a little bit today—the top five had some struggles," Robson said. "We did some things today we don't do in qualifying. We didn't hit as many fairways as we do in qualifying. We come out here in qualifying and never miss our targets, but we did today. It cost us some bogeys and it is something we cannot do Tuesday.
"We had a few three putts—the greens are fast and in great shape—and there is no excuse for the three putts. We had to do better tomorrow on our lag putts."
The good news was senior Jessica Cathey returned to form with a two-over 74 that leaves her one shot out of first behind Lipscomb's Samantha Griffith. After a struggling performance in the Murray State tournament, Cathey ran away with the APSU's six-round qualifier. She continued that momentum, Monday.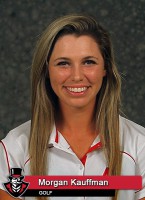 "Jessica had a great round today—she played like Jessica," said Robson. "She just played real steady golf today.
"Morgan was pretty solid today and Ashton had a couple of doubles that she normally doesn't have. I think we will do better tomorrow."
Junior Morgan Kauffman was the only other Lady Govs team member to shoot under 80, finishing with a 78. She is tied for 11th. Freshman Ashton Goodley fired an 80 while junior Morgan Gardner contributed an 81. Sophomore AnnaMichelle Moore fired an 87.
Meanwhile, two Lady Govs individuals also had strong opening rounds. Freshman Taylor Goodley fired a 75 and is tied for third while Kelsey Schutt shot a 78 and also is tied for 11th.
Meanwhile, APSU's other two individuals, Sarah Struble and Amber Bosworth shot 84 and 85, respectively.
"I was really proud of Taylor and Kelsey, playing as individuals," Robson said. "I said our four individuals were capable of playing well and two of them played really well."
The tourney's final 18 holes will be played Tuesday, beginning with an 8:30am shotgun start.
Video
Senior Jessica Cathey finds herself one shot out of first heading into Tuesday's final round at the F&M Bank APSU Intercollegiate.
Box Score
| | | | |
| --- | --- | --- | --- |
| Finish | School – Players | Round 1 | Totals |
| T 2 | Austin Peay State University | 313 | 313 |
| 2 | Jessica Cathey | 74 | 74 |
| T 11 | Morgan Kauffman | 78 | 78 |
| T 23 | Ashton Goodley | 80 | 80 |
| T 25 | Morgan Gardner | 81 | 81 |
| 43 | AnnaMichelle Moore | 87 | 87 |
| | | | |