APSU Sports Information

Jacksonville, FL – Chris Horton scored a career-high 28 points and the nation's third-leading rebounder snared 17 errant shots but unfortunately for Austin Peay State University's basketball team he was the only Gov in double figures in a 80-70 defeat by North Florida, played at the UNF Arena, Wednesday night.

The loss was the Govs second straight and left them 1-3 on the current road swing and 4-7 overall.

They will wrap up the five-game road trip, 2:00pm, Sunday, at Lipscomb. North Florida, the defending Atlantic Sun defending champs and preseason favorite, won its third straight to improve to 9-4.

Horton finished the contest 13 of 19 (68 percent) from the floor, meaning the rest of the Govs were just 16 of 53 (30 percent) and it would have been worst if the Govs young players, freshman guard Zach Glotta, freshman forward Jared Savage, redshirt freshman forward Chris Porter-Bunton and sophomore point guard Tre' Ivory had not energized the Govs, who sliced a 22-point deficit to the final margin over the final 6:41.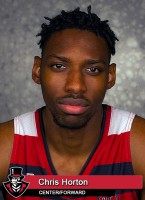 "The young guys played with energy, they played with purpose and they played together," APSU coach Dave Loos said. "Some young guys also earned (future) some time. It was pretty clear they played well but also played hard. I like the effort I saw out there."
Savage and Porter-Bunton, the former Warren County Central (Bowling Green, Kentucky) teammates each scored nine points, with Savage nailing a trio of three pointers. Glotta added eight points, including two three pointers—his second one was from NBA range. In fact, Glotta and Savage combined for five of the Govs' seven three pointers.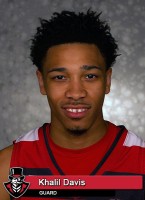 North Florida, which entered the contest ranked first in the nation in three pointers made (159) and three-pointers made per game (13.3), struggled from the perimeter in the opening half, making 4-of-19 three pointers in playing their third game in five days. But the Governors could not take advantage of the Ospreys' misfiring as APSU was just 10-of-33 in the first half, going 0-of-7 from three-point range.

But in addition to the Govs' shooting woes, they committed 10 turnovers, leading to 18 Osprey points—APSU was out-scored 18-0 in points-off-turnovers in the first half.

"The 18 points off turnovers was a killer in the first half," Loos said. "They were missing shots they normally make but we didn't take advantage of it because we played too fast, we made some bad decisions.

"In the second half, the young guys flipped it. We got points off turnovers (11), we took care of the ball better (just three turnovers) and we made shots."

North Florida, which has players averaging double figures for the season, had five players score in double digits against the Govs, led by forward Chris Davenport, who had 18 points and eight rebounds. Trent Mackey, reminded the Govs of IPFW's Max Landis in the second half, had 15 points, all on three pointers. Atlantic Sun preseason Player of the Year, Beau Beech, added 14 points and eight rebounds.

For the Govs, it was one man standing tall—Horton's previous scoring high was 23 against Southeast Missouri January 31st. The 6-8 senior center entered the game leading the nation in offensive rebounding at 5.7 per game—he had 10 offensive caroms against the Ospreys. He now is just 21 rebounds of 1,000 for his career.

"Chris had a big night, no question about it," Loos said. "But he can't do it by himself—others have to step up. In the second half we did; we moved the ball much better. We got the ball to the short corner and the high post and made some things happen. And we made some perimeter shots."
Box Score
Austin Peay (4-7) 70, North Florida (9-4) 80
| | 1 | 2 | Total |
| --- | --- | --- | --- |
| Austin Peay | 24 | 46 | 70 |
| North Florida | 41 | 39 | 80 |
Austin Peay 70
Player
FGM
-FGA
3FGM
-3FGA
FTM
-FTA
OFF
-DEF
TOT
PF
TP
A
TO
BLK
STL
MIN
Horton, Chris
13-19
0-0
2-6
10-7
17
0
28
0
3
1
3
38
Davis, Khalil
2-9
0-3
3-4
3-4
7
1
7
3
4
0
0
31
Jones, Kenny
2-8
0-0
0-0
1-2
3
0
4
1
0
0
0
13
Thompson, Terrell
1-5
1-2
0-0
0-1
1
2
3
0
1
1
0
30
Robinson, Josh
1-8
0-2
0-0
1-3
4
0
2
1
2
0
1
27
Porter-Bunton, Chris
4-9
1-1
0-0
0-1
1
3
9
1
0
0
0
18
Savage, Jared
3-8
3-7
0-0
1-1
2
1
9
1
1
0
2
17
Glotta, Zach
3-4
2-3
0-0
0-2
2
0
8
3
0
0
3
15
Ivory, Tre'
0-1
0-1
0-0
0-0
0
0
0
3
1
0
1
8
Murry, John
0-1
0-0
0-0
0-1
1
1
0
0
1
0
0
3
TEAM
0-0
0-0
0-0
1-4
5
0
0
0
0
0
0
0
Totals
29-72
7-19
5-10
17-26
43
8
70
13
13
2
10
200
North Florida 80
Player
FGM
-FGA
3FGM
-3FGA
FTM
-FTA
OFF
-DEF
TOT
PF
TP
A
TO
BLK
STL
MIN
Davenport, Chris
8-12
2-5
0-0
1-7
8
3
18
1
4
1
1
29
Mackey, Trent
5-9
5-9
0-0
0-6
6
1
15
0
0
0
0
34
Beech, Beau
6-15
2-8
0-0
1-7
8
3
14
3
1
1
3
33
Moore, Dallas
5-12
1-6
1-1
0-2
2
0
12
8
3
0
1
37
Malonga, Nick
1-3
0-2
1-1
0-1
1
2
3
0
0
0
0
13
Daniels, Demarcus
4-7
1-4
1-3
3-4
7
1
10
3
5
4
1
27
Bodager, Aaron
2-5
2-4
2-2
1-2
3
0
8
4
1
0
0
19
Odum, Karlos
0-0
0-0
0-0
0-0
0
0
0
0
0
0
0
8
TEAM
0-0
0-0
0-0
1-0
1
0
0
0
0
0
0
0
Totals
31-63
13-38
5-7
7-29
36
10
80
19
14
6
6
200
Sections
Sports
Topics
APSU, APSU Athletics, APSU Basketball, APSU Men's Basketball, APSU Sports, Austin Peay State University, Beau Beech, Bowling Green KY, Chris Davenport, Chris Horton, Chris Porter-Bunton, Dave Loos, Governors, Govs, Jacksonville FL, Jared Savage, Max landis, North Florida, Ohio Valley Conference, Ospreys, OVC, Southeast Missouri, Tre' Ivory, Trent Mackey, UNF Arena, Zach Glotta