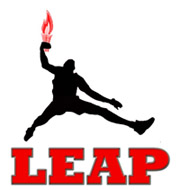 Clarksville, TN – Convergys Community Action Network (CAN) volunteers in Clarksville, Tennessee partnered with the LEAP Organization to support their Career Readiness Program.
LEAP, which stands for Leadership, Enlightenment, Achievement, and Perseverance, is a 501(c) (3) nonprofit organization whose mission is to instill positive moral growth and sustainable life skills in youth.
The goal of LEAP's Career Readiness Program is to provide youth ages 16 to 24 with critical job skills to prepare them for entry into the workforce.
CAN members provided a "day in the life of a Convergys employee" experience for the program participants.
This experience included a site tour, typing tests, mock interviews, and a group call calibration.
"I am very proud and impressed with the participants of this program," said Andrew Tisoskey, site director for Clarksville." They did a great job in their mock interviews and received pointers from the team on how better to prepare for the real thing."
Convergys is excited about this new partnership with LEAP. "We get to play an active in role in the development of our local youth (and our future hiring pool), and we're looking forward to working with the next group of program participants," added Tisoskey.
"It's a beautiful thing when company leaders invest their knowledge and experience to help develop youth into future business leaders," said Richard Garrett, Executive Director of the LEAP Organization. "We will continue to seek other Partners in Employment that are willing to commit to aiding us in preparing youth for the workforce."
About Convergys
Convergys delivers consistent, quality customer experiences in 58 languages and from more than 150 locations around the globe. We partner with our clients to improve customer loyalty, reduce costs, and generate revenue through an extensive portfolio of capabilities, including customer care, analytics, tech support, collections, home agent, and end-to-end selling.
We are committed to delighting our clients and their customers, delivering value to our shareholders, and creating opportunities for our talented, caring employees, 125,000-strong in 31 countries around the world. Visit convergys.com to learn more about us.
About LEAP
LEAP is a nonprofit youth development organization that provides mentoring, counseling, career readiness, tutoring, community service learning opportunities, and other enriching programs. Their vision is to implement sustainable programs that equip and empower youth with the knowledge and resources they need to improve their decision making to lead healthy, productive lives.
Visit www.leaporg.net/about to learn more about us.