Clarksville, TN – Searching for the perfect Valentine's experience for you and your special someone?  Look no further than the Roxy Regional Theatre's "Martini Night" on Saturday, February 13th, 2016.
This year with the theatre's popular annual Valentine's package, the universal language of the blues meets the universal language of love as patrons are treated to an unforgettable evening of cocktails, hors d'oeuvres and the scorching Tony-nominated musical revue "Blues in the Night".
The evening will heat up at 7:00pm with gin & vodka martinis paired with a sumptuous menu specially prepared by Chef Nicholas of Nicoletta's Catering, featuring antipasto (assorted meats, cheeses, pickled vegetables and olives), smoked mesquite BBQ meatball sliders with caramelized onions, teriyaki chicken pops with Bangkok peanut sauce, and custard-filled Italian cream puffs with chocolate dipping sauce.  Non-alcoholic punch, coffee and bottled water will also be available.
Then at 8:00pm, Phillip Bernard Smith, Mariah Sade Ralph, Dwan Hayes and Lacey Connell will serenade guests with over two dozen hot and torchy numbers covering the range of this indigenous American art form, from Bessie Smith to Duke Ellington, Johnny Mercer, Harold Arlen, Alberta Hunter, Jimmy Cox, Ida Cox and more.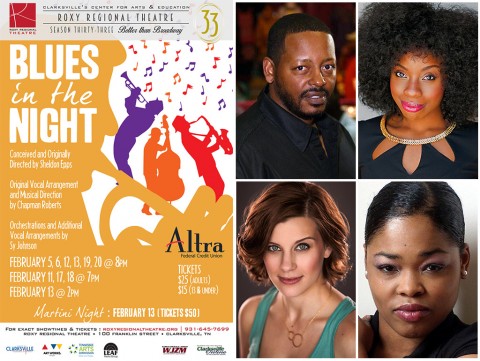 Set in 1930s Chicago, "Blues in the Night" tells the story of three women in love with the same no-good man, against a backdrop of such bluesy, jazzy tunes as "Nobody Knows You When You're Down and Out," "Rough and Ready Man," "Wild Women Don't Have the Blues" and more, performed by Tom Thayer on piano, John Waddle on bass and Thad Wallus on drums.
Tickets to "Martini Night" are $50.00 per person and may be reserved online at www.roxyregionaltheatre.org , by phone at 931.645.7699, or at the theatre between 9:00am and 2:00pm, Mondays through Fridays.
"Blues in the Night" runs February 5th through February 20th and is made possible in part through the generous support of Altra Federal Credit Union.  Additional funding support has been provided by Ken Grambihler and Hugh & Joy Hatcher, along with Dr. Ernest & Joan DeWald, Barry Kitterman & Jill Eichhorn, Dr. Gary & Janet Mund, and Dr. John & Cathy Stanton.
The Roxy Regional Theatre is located at 100 Franklin Street in Clarksville, TN.