Austin Peay (9-14/2-6) vs. Southeast Missouri (5-16/2-6)
Saturday, January 30th, 2016 | 4:15pm CT
Cape Girardeau, MO | Show Me Center

Cape Girardeau, MO – Search for that elusive first Ohio Valley Conference road victory will take Austin Peay State University men's basketball team to Southeast Missouri, 4:15pm, Saturday, and the Show Me Center.
The Governors, 9-14 overall, enter the contest 0-3 in OVC road games and 2-6 in the league overall. They own the same OVC mark as Southeast Missouri.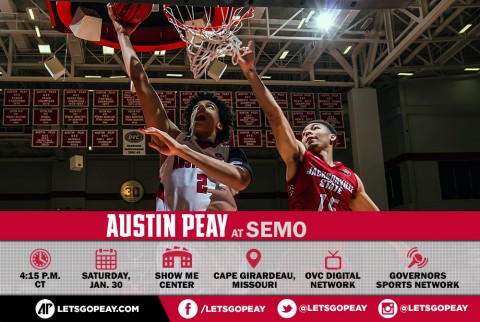 However, the Redhawks are coming in with two straight league victories, including last Sunday's overtime home victory against UT Martin and Thursday's 58-51 road win at SIU Edwardsville.
Overall, it was the third straight win for SEMO as it pushed its mark to 5-16 overall.  A few short weeks ago, SEMO was amidst roster issues and turmoil. In fact, the Redhawks lost their season's first 10 games before winning two straight before losing six more in a row. The UT Martin victory was the first of 2016.
But the Redhawks shortened bench—they have just 10 players—has become almost a rallying cry of late. Eight of the 10 players average 16.5 minutes or better, with four players averaging 30 or more minutes played.
Four players average double-figure scoring, led by forward/guard Antonius Cleveland. The 6-6 junior, who missed three recent games with a wrist injury, is averaging a team-leading 13.5 points per game in OVC play and 14.1 overall. He also is leading the team in rebounding at 7.7 rebounds per outing.
Joel Angus III and Trey Kellum provide a solid one-two punch up front as the 6-7 forwards are averaging 11.5 and 10.5 points per game, respectively, during conference play and are combining for 13 rebounds per game.
Guard Isiah Jones, who has been a Govs' nemesis in the past, is averaging 10.9 ppg during OVC play.
The Redhawks' most recent surge can be attributed to defense. After holding high-scoring UT Martin to 68 points, they limited SIUE to only 51 points on 33 percent shooting.
It will be a second straight outing for the Govs against a team that emphasizes defense first. Morehead State limited the Govs to 65 points in Wednesday's loss while limiting APSU to 44 percent shooting and forcing 16 turnovers.
A 14-0 second-half run—after the Govs had taken a one-point lead—proved to lead to APSU's undoing. Chris Horton led the Govs with 22 points, coming off a game where he went 7-of-10 from the floor and a perfect 8-of-8 at the free-throw line.
What a Win Would Mean
The Govs would push their OVC mark to 3-6…the Govs would go to 3-6 in the 2016 portion of the schedule…the Govs would end January with a 3-6 mark…the Govs would go to 10-14 overall…the Govs would snap a two-game OVC losing streak.
The Govs would improve to 4-8 on the road…it would be their first OVC road victory…they would improve to 34-21 all-time against Southeast Missouri…it would make Dave Loos 34-21 all-time against SEMO…it would make Loos 1-0 all-time against new SEMO coach Ricky Ray…it would be Dave Loos' 483rd career victory and 401st at APSU.
Broadcast Information
Radio • Governors Sports Network
Play-by-Play: Scott Chase
Analyst: David Loos
APSU Govs on the Web
Live Statistics: www.StatBroadcast.com
Live Audio: www.LetsGoPeay.com