APSU Sports Information

Clarksville, TN – Starting pitcher Caleb Powell supplied six quality innings while APSU's baseball team supported him with its season's best offensive performance in a 14-1 nonconference victory against Northern Illinois, Wednesday night, at Raymond C. Hand Park.
Austin Peay State University (9-6) could not get started in the first two innings despite seeing its leadoff hitters get aboard in both frame.
The script changed in the third inning as the leadoff hitter was retired, but the Govs rallied as the next three batters reached base.
Second baseman Garrett Copeland started the rally with a walk, stole second base and advanced to third on an error. He would score the game's first run when third baseman TJ Conroy singled down the left field line. The Govs lead quickly became 3-0 when catcher Ridge Smith launched his season's sixth home run over the wall in left.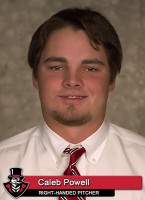 Powell (1-1) kept Northern Illinois in check through the first four innings. He retired the first nine batters he faced before surrendering a leadoff single in the fourth. Powell would allow a single later in the inning but ended the threat, first with a fly out then by catching a batter looking at a third strike.
Northern Illinois (2-14) would get its third hit of the game when right fielder Stephen Letz led off the frame with a home run. Powell did not allow the Huskies to rally, using four pitches to retire the next three batters. He would allow a single to start the sixth and saw an error extend the inning, but got a line drive out and a double play to end the threat and his outing.
The Govs offense added a pair of runs in the fifth as first baseman Dre Gleason extended his hit streak to 13 games with a RBI double and right fielder Chase Hamilton drove in a run with a single.
However, it was Austin Peay's four-run sixth that put the game safely away. Conroy, Robles and Wilson each had run-producing hits in an inning extended by a Northern Illinois error on a potential double-play ball. After the dust settled, the Govs held a 9-1 lead that would not be challenged.
Powell picked up his season's first win after allowing one run while scattering four hits in six innings. Relievers John Sparks and CJ Burrow closed out the contest on the mound.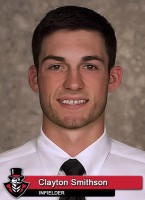 Conroy, Smith and shortstop Clayton Smithson each had two RBI to pace the Austin Peay offense, which posted season bests in runs scored and hits. The Govs 17-hit outing saw six hits post two hits each.
Huskies starter Kevin Jones (0-1) lasted just three innings, allowing three runs on five hits, and was tagged for the loss. Northern Illinois' offense was held to five hits by the three Govs pitchers, center fielder Justin Fletcher and catcher Johnny Zubek each posting 2-for-4 outings.
Austin Peay begins a four-game road trip with a early pivotal Ohio Valley Conference series at Jacksonville State. The meeting between the two squads that are 3-0 in league play begins with a 6:00pm, Friday contest at Rudy Abbott Field.
Box Score
Northern Illinois (2-14) -vs- Austin Peay (9-6)
| | 1 | 2 | 3 | 4 | 5 | 6 | 7 | 8 | 9 | | | R | H | E |
| --- | --- | --- | --- | --- | --- | --- | --- | --- | --- | --- | --- | --- | --- |
| Northern Illinois | 0 | 0 | 0 | 0 | 1 | 0 | 0 | 0 | 0 | | 1 | 5 | 3 |
| Austin Peay | 0 | 0 | 3 | 0 | 2 | 4 | 0 | 5 | X | | 14 | 17 | 1 |
W: POWELL, Caleb (1-1) L: JONES, Kevin (0-1)
Northern Illinois 1
Position
Player
AB
R
H
RBI
BB
SO
LOB
cf
FLETCHER, Justin
4
0
2
0
0
0
0
2b
WOOD, Brad
3
0
0
0
0
0
0
ph/2b
YAPP, Luke
0
0
0
0
1
0
0
c
ZUBEK, Johnny
4
0
2
0
0
0
0
ss
SISLER, Brian
4
0
0
0
0
0
3
1b
MALLDER, Brandon
3
0
0
0
0
1
2
1b
SERY, Wes
1
0
0
0
0
0
0
rf
LETZ, Stephen
3
1
1
1
0
0
0
ph
STOUT, Austin
1
0
0
0
0
0
0
lf
JUMONVILLE, Joe
2
0
0
0
1
0
0
ph
GASSER, Jason
1
0
0
0
0
0
0
3b
RUSSELL, Carl
3
0
0
0
0
0
1
dh
SMITH, Alex
3
0
0
0
0
0
0
p
JONES, Kevin
0
0
0
0
0
0
0
p
HAWKS, Joe
0
0
0
0
0
0
0
p
BLANTON, Ryne
0
0
0
0
0
0
0
p
SAVARISE, Jon
0
0
0
0
0
0
0
p
RUCKMAN, Justin
0
0
0
0
0
0
0
Totals
32
1
5
1
2
1
6
Austin Peay 14
Position
Player
AB
R
H
RBI
BB
SO
LOB
2b
COPELAND, Garrett
4
2
2
1
2
1
0
3b
CONROY, TJ
5
2
2
2
1
0
0
c
SMITH, Ridge
4
3
2
2
0
0
0
c
SALA, Alex
0
0
0
1
1
0
0
1b
GLEASON, Dre
5
2
1
1
0
2
3
ph/1b
NEWBERG, Brett
1
0
1
1
0
0
0
dh
ROBLES, Alex
3
0
2
1
1
0
0
ph/dh
MARIK, T.J.
2
0
0
0
0
1
2
lf
WILSON, Josh
3
0
2
1
1
0
0
lf
PURCELL, Wesley
1
1
1
0
0
0
0
rf/cf
HAMILTON, Chase
5
1
2
1
0
0
2
cf
WILLIS, Imani
3
0
0
0
0
3
3
ph/rf
BLACKBURN, Kyle
2
1
1
0
0
0
2
ss
SMITHSON, Clayton
4
2
1
2
1
1
0
p
POWELL, Caleb
0
0
0
0
0
0
0
p
SPARKS, John
0
0
0
0
0
0
0
p
BURROW, CJ
0
0
0
0
0
0
0
Totals
42
14
17
13
7
8
12
Northern Illinois
Player
IP
H
R
ER
BB
SO
WP
BK
HBP
IBB
AB
BF
FO
GO
NP
Jones, Kevin
(L, 0-1)
3.0
5
3
3
2
3
0
0
0
0
14
16
1
5
61
Hawks, Joe
2.0
3
2
2
1
3
0
0
0
0
9
10
1
2
36
Blanton, Ryne
1.0
4
4
3
1
0
0
0
0
0
8
9
1
2
40
Savarise, Jon
1.0
0
0
0
2
1
1
0
0
0
3
5
2
0
25
Ruckman Justin
1.0
5
5
3
1
1
0
0
0
0
8
10
1
1
34
Totals
17
14
11
7
8
1
0
0
0
42
50
6
10
196
Austin Peay
Player
IP
H
R
ER
BB
SO
WP
BK
HBP
IBB
AB
BF
FO
GO
NP
Powell, Caleb
(W, 1-1)
6.0
4
1
1
0
1
0
0
0
0
22
22
9
7
62
Sparks, John
2.0
1
0
0
2
0
0
0
0
0
7
9
3
3
37
Burrow, CJ
1.0
0
0
0
0
0
0
0
0
0
3
3
1
2
10
Totals
5
1
1
2
1
0
0
0
0
32
34
13
12
109