APSU Sports Information

Morehead, KY – Austin Peay State University women's tennis team snapped its six-match losing streak Saturday, defeating Morehead State 4-2 for the first Ohio Valley Conference win of 2016.
The Govs (2-6) got off to a rough start to the contest in doubles play.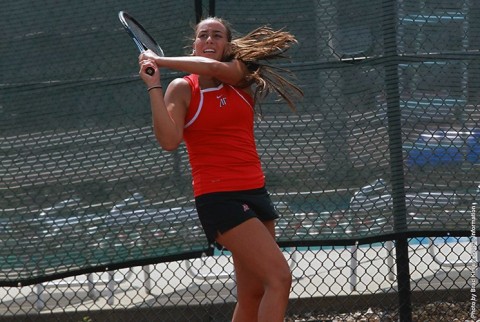 Kicking the match off, the twosome of
Hannah Tatlock
and
Isabela Jovanovic
defeated Morehead's Lindsey Wild and Aleksandra Savic with a score of 6-1.
However, Lidia Yanes Garcia and Helena Kuppig fell to Zina Mehikic and Ayaka Terashi, 7-5, and Claudia Yanes Garcia and Brittney Covington dropped their match against Hayley Wild and Maria Orenella, 6-1, to forfeit the doubles point.
Despite their slow start, the Govs came into the singles portion of the match with renewed focus. Giving Austin Peay two additional wins on the afternoon, Lidia Yanes Garcia led the twin tandem with a triumph over Morehead's Ayaka Terashi 6-2, 6-4, and Claudia Yanes Garcia defeated Morehead's Zina Mehikic 6-2, 6-2. This gives Lidia a season record of 6-2 and improves Claudia to 7-1.
The Govs also had winning scores in the 4th and 6th seed singles matches. Tatlock overwhelmed the Eagles' Maria Orenella 6-4, 7-5. Subsequently, Jovanovic gained her season's first victory, knocking off Lindsey Wild, 6-1, 6-0. Covington's match playing in the 5th seed versus Morehead's Aleksandra Savic was unfinished. Kuppig held the only singles defeat of the match, falling to the Eagles' Hayley Wild 6-7(6), 4-6.
Austin Peay's next match will be at home, March 25th, against SIU Edwardsville.
Box Score
Singles
No. 1 –Lidia Yanes Garcia (APSU) def. Ayaka Terashi (MSU), 6-2, 6-4
No. 2-Claudia Yanes Garcia (APSU) def. Zina Mehikic (MSU), 6-2, 6-2
No. 3 –Hayley Wild (MSU) def. Helena Kuppig (APSU), 6-7(6), 4-6
No. 4 –Hannah Tatlock (APSU) def. Maria Orenella (MSU), 6-4, 7-5
No. 5 –Brittney Covington (APSU) tie. Aleksandra Savic (MSU), 3-6, 6-2, 0-0
No. 6 – Isabela Jovanovic (APSU) def Lindsey Wild (MSU), 6-1, 6-0
Doubles
No. 1- Mehikic/Terashi (MSU) def. L. Yanes Garcia/Kuppig (APSU), 5-7
No. 2- H. Wild/Orenella (MSU) def. C. Yanes Garcia/Covington (APSU), 1-6
No. 3-Tatlock/Jovanovic (APSU) def. L.Wild/Savic (MSU), 6-1
Order of finish: Doubles (3, 2, 1*); Singles (2, 1, 3, 6, 4*, 5)