Austin Peay Sports Information

Murfreesboro, TN – Austin Peay State University's baseball team could not overcome a double whammy of surrendering too many hits and not posting enough of its own in a 6-5 nonconference loss to Middle Tennessee, Tuesday night, at Reese Smith Jr. Field.
Middle Tennessee (14-15) rapped out a season-high 16 hits against the Govs pitching staff, with a hit in all eight innings. The Blue Raiders opened the scoring with two outs in the second with four consecutive singles, catcher Vaughn Shapen's driving in a pair of runs for a 3-0 lead.
Austin Peay (16-11) responded in the third inning, taking advantage of a back-to-back walks to start the frame.
Third baseman Ridge Smith doubled just inside the third base bag, driving in both walks to narrow the deficit to 3-2.
The Blue Raiders used a pair of singles in its half of the third, third baseman Drew Huff's driving in a run, to get back one of those runs. A three-single sixth inning added another run as center fielder Brad Jarreau was credited with a RBI. The Middle Tennessee lead reached four runs, 6-2, in the eighth as right fielder Austin Dennis doubled – MT's lone extra-base hit on the night – and scored on a sacrifice fly after stealing third base.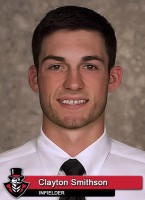 The Governors opened the ninth with back-to-back walks off MT closer Cody Puckett. Shortstop Clayton Smithson delivered both those runs with a one-out double that stayed just inside the third base bag. Two batters later, center fielder Patrick Massoni singled to drive in Smithson, cutting the deficit to one run, 6-5. However, Puckett would escape when he induced a game-ending fielder's choice.
Austin Peay was held to five hits through eight innings before its pair of hits in the ninth inning gave it one more hit that its season low set Saturday. In addition, the Govs offense was sent down in order three times over nine innings.
Smithson led the Govs offense with a 1-for-3, two RBI performance that saw him earn one of APSU's six walks and score twice. Smith and first baseman Dre Gleason also added doubles that were also their lone hits in the contest.
APSU starter John Sparks (0-1) went a season long five innings in his season's first start but surrendered four runs on 10 hits and was charged with the loss.
Shapen led MTSU's offense with a 3-for-4, two RBI performance – doubling his hit total this season. Huff also went 3-for-3 with a walk and RBI after entering the game with eight hits.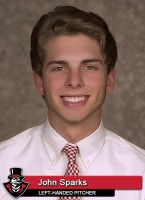 Reid Clements (2-1) benefited from the Blue Raiders offensive outburst, picking up the win after holding the Govs to one run on four hits in 3.2 innings. He came on in emergency relief of starter AH Spencer, who left in the third inning with an apparent injury.
After the game, Austin Peay announced that Wednesday's scheduled contest against Western Kentucky was cancelled due to forecast rain in Clarksville, TN. The Govs now prepare to host Ohio Valley Conference leader Southeast Missouri in a three-game series set to begin with a 6:00pm, Friday contest at Raymond C. Hand Park.
Box Score
Austin Peay (16-11) -vs- Middle Tennessee (14-15)
| | 1 | 2 | 3 | 4 | 5 | 6 | 7 | 8 | 9 | | | R | H | E |
| --- | --- | --- | --- | --- | --- | --- | --- | --- | --- | --- | --- | --- | --- |
| Austin Peay | 0 | 0 | 2 | 0 | 0 | 0 | 0 | 0 | 3 | | 5 | 7 | 0 |
| Middle Tennessee | 0 | 3 | 1 | 0 | 0 | 1 | 0 | 1 | X | | 6 | 16 | 0 |
W: Reid Clements (2-1) L: SPARKS, John (0-1)

Austin Peay 5
Position
Player
AB
R
H
RBI
BB
SO
LOB
2b
COPELAND, Garrett
4
1
0
0
1
2
0
cf
MASSONI, Patrick
5
0
1
1
0
0
2
cf
WILLIS, Imani
0
0
0
0
0
0
0
3b
SMITH, Ridge
5
0
1
2
0
2
1
1b
GLEASON, Dre
4
0
1
0
0
2
1
dh
ROBLES, Alex
3
0
0
0
1
0
0
rf
HAMILTON, Chase
3
0
1
0
0
1
0
rf
PURCELL, Wesley
0
1
0
0
1
0
0
lf
BLACKBURN, Kyle
3
1
1
0
1
1
1
c
SALA, Alex
2
0
1
0
1
0
0
c
GRAY, Logan
1
0
0
0
0
1
0
ss
SMITHSON, Clayton
3
2
1
2
1
0
0
p
SPARKS, John
0
0
0
0
0
0
0
p
KIMBEL, Keirce
0
0
0
0
0
0
0
p
NEFF, Zach
0
0
0
0
0
0
0
Totals
33
5
7
5
6
9
5
Middle Tennessee 6
Position
Player
AB
R
H
RBI
BB
SO
LOB
ss
Riley Delgado
3
0
1
0
1
0
1
rf
Austin Dennis
4
1
2
0
1
0
2
cf
Brad Jarreau
4
1
2
2
0
1
0
dh
Aaron Aucker
5
0
1
0
0
2
2
lf
Blake Benefield
4
0
0
0
0
1
0
lf
Andrew Cash
0
0
0
0
0
0
0
3b
Drew Huff
3
1
3
1
1
0
0
2b
Austin Sistrunk
4
1
2
1
0
1
3
1b
Kevin Dupree
4
2
2
0
0
2
0
c
Vaughn Shapen
4
0
3
2
0
0
2
p
AJ Spencer
0
0
0
0
0
0
0
p
Reid Clements
0
0
0
0
0
0
0
p
Carson Lester
0
0
0
0
0
0
0
p
Cody Puckett
0
0
0
0
0
0
0
Totals
35
6
16
6
3
7
10
Austin Peay
Player
IP
H
R
ER
BB
SO
WP
BK
HBP
IBB
AB
BF
FO
GO
NP
Sparks, John
(L, 0-1)
5.0
10
4
4
2
4
2
0
0
0
23
25
3
6
—
Kimbel, Keirce
1.0
3
1
1
1
0
0
0
0
0
4
6
0
2
—
Neff, Zach
2.0
3
1
1
0
3
0
0
0
0
8
9
3
0
—
Totals
16
6
6
3
7
2
0
0
0
35
40
6
8
Middle Tennessee
Player
IP
H
R
ER
BB
SO
WP
BK
HBP
IBB
AB
BF
FO
GO
NP
AJ Spencer
2.1
1
1
1
1
4
0
0
0
0
8
9
1
3
—
Reid Clements
(W, 2-1)
3.2
4
1
1
2
2
0
0
0
0
14
16
7
1
—
Carson Lester
2.0
0
0
0
1
2
0
0
0
0
6
7
3
1
—
Cody Puckett
1.0
2
3
3
2
1
0
0
0
0
5
7
0
2
—
Totals
7
5
5
6
9
0
0
0
0
33
39
11
7