APSU Sports Information

Jacksonville, AL – Austin Peay State University women's tennis team punched its ticket to the Ohio Valley Conference tournament with a 4-3 victory against Jacksonville State, Saturday, at the JSU Tennis Courts.
In their battle against the Gamecocks, Lidia Yanes Garcia and Helena Kuppig gained their fourth overall win as a doubles team after defeating JSU's Olivia Nguyen and Genevie Ulanday, 6-2.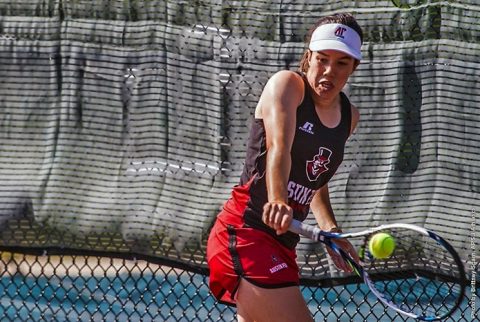 Following the No. 1 duo's performance,
Hannah Tatlock
and
Isabela Jovanovic
triumphed against Sadley St. Amant and Courtney Conley, 6-3. Conversely,
Claudia Yanes Garcia
and
Brittney Covington
were defeated by Claudia Marsala and Diana Mirceta, 6-0.
In singles play, Lidia and Claudia rolled over Nguyen and Marsala, 6-2, 6-3; 5-7, 6-1, 6-1, respectively. Following the twins, Kuppig was also victorious in her match against Genevie Ulanday, 6-4, 6-4. These victories put the top three players records at 13-3, 13-2, and 7-8 going into the OVC Tournament.
Unfortunately, the Govs were not successful in the No. 4, 5 and 6 spots. Tatlock was defeated by Mirceta (6-4, 6-3), Covington was overcome by St. Amant (6-1, 6-1), and Jovanovic was beaten by Conley (3-6, 6-3, 7-5).
The Govs will be going into the tournament as the No. 5 seed, playing Eastern Illinois on April 22nd at 2:00pm.
Box Score
Singles
No. 1- Lidia Yanes Garcia (APSU) def. Olivia Nguyen (JSU), 6-2, 6-3
No. 2-Claudia Yanes Garcia (APSU) def. Claudia Marsala (JSU), 5-7, 6-1, 6-1
No. 3-Helena Kuppig (APSU) def. Genevie Ulanday (JSU), 6-4, 6-4
No. 4-Diana Mirceta (JSU) def. Hannah Tatlock (APSU), 6-4, 6-3
No. 5-Sadley St. Amant (JSU) def. Brittney Covington (APSU), 6-1, 6-1
No. 6-Courtney Conley (JSU) def. Isabela Jovanovic (APSU), 3-6, 6-3, 7-5
Doubles
No. 1-L. Yanes Garcia/Kuppig (APSU) def. Nguyen/Ulanday (JSU), 6-2
No. 2-Marsala/Mirceta (JSU) def. C. Yanes Garcia/Covington (APSU), 6-0
No. 3-Tatlock/Jovanovic (APSU) def. St. Amant/Conley (JSU), 6-3
Order of finish: Doubles (2, 1, 3) Singles (5, 1, 4, 3, 2, 6)