APSU Sports Information

Owens Cross Roads, AL – Morgan Kauffman couldn't have picked a better time to step up.
With senior Jessica Cathey struggling with allergy issues this week, Kauffman, the lone Austin Peay State University junior involved in this week's Ohio Valley Conference women's championship, basically accepted the baton from APSU's only senior and served as team scoring leader over the final two days.
Kauffman, in fact, shot a final-round 1-over 73—punctuated by a birdie on 18—to finish fifth and earn OVC All-Tournament, Wednesday.
With her leading the way, APSU shot its best tourney round (306) to move up one spot to finish fifth with an overall 925.
Eastern Kentucky repeated as champion, shooting a final day 301 to end at 888, 18 shots clear of the field on The Highlands Course at The Robert Trent Jones Golf Trail at Hampton Cove.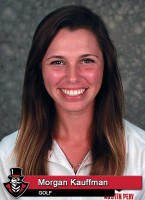 "She (Morgan) has been close for a while but I am super proud of the way she focused this week," APSU coach Sara Robson said. "We talked to her about having tunnel vision this week, literally thinking about fairways and greens.
"She putted well today. She saved herself. She easily could have had three putts in there. I am very proud of that and how she finished."
Cathey, still bothered some by allergy issues as the day progressed, got off to a slow start, with a double bogey on No. 2, and never could anything going. She finished with an 81.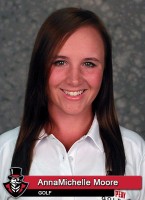 But other Lady Govs picked up slack. Sophomore AnnaMichelle Moore, who struggled the first two days, shot a 76, Wednesday, as did freshman Taylor Goodley, who was named to the OVC All-Newcomer team, Monday night. Twin sister Ashton Goodley, who was solid the first two rounds, battled to an 83,
"The girls competed hard today," Robson said. "AnnaMichelle and Taylor stepped up and gave us good numbers. Ashton—her foot was giving her fits—she really battled out there and fought through it.
"Jessica didn't execute a few shots today, an emotional day for her. She dealt with adversity all week and dealt well it, but she was unable to get some swings where they needed to happen the last few holes. She certainly going to be missed—she has been a huge part of this program for the past four years."
Although Cathey will not be back, the remaining four players who played at Hampton Cove will return along with a trio of rising juniors—Kelsey Schutt, Amber Bosworth and Morgan Gardner.
"It is always hard to lose a leader on and off the course," Robson said. "She has been just a great leader for us. But I do feel like with the girls we have returning next year.
"Obviously, what Kauffman accomplished this week should be big for her going into the summer—she is ready to assume some of the team leadership. In addition, we have some kids, some juniors, at home who can be stars for us. We will have a strong senior class. We just need them to step up and show that on the golf course.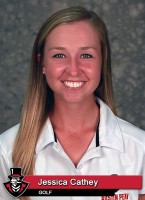 "AnnaMichelle is now back to where she was her freshman year and we have talked a lot to her about what she needs to do from this point to August. I think it will look a lot different to her this summer than last summer.
"The freshmen (Goodleys) have some tournaments under their belt and some school under their belt; they have learned a lot about being a college athlete."
Box Score
2016 Ohio Valley Conference Women's Championship
RTJ at Hampton Cove
Owens Crossroad
| | | | | | |
| --- | --- | --- | --- | --- | --- |
| Pos. | School – Players | Round 1 | Round 2 | Round 3 | Totals |
| 6 | Austin Peay State University | 308 | 311 | 306 | 925 |
| 5 | Morgan Kauffman (2) | 75 | 76 | 73 | 224 |
| 19 | Jessica Cathey (1) | 73 | 78 | 81 | 232 |
| T 24 | Taylor Goodley (3) | 81 | 79 | 76 | 236 |
| 31 | Ashton Goodley (4) | 79 | 78 | 83 | 240 |
| 35 | AnnaMichelle Moore (5) | 81 | 87 | 76 | 244 |
| | | | | | |