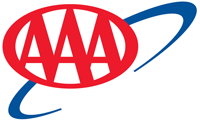 Tampa, FL – Prices at the pump should get more expensive this week thanks to an increase in oil prices and high demand for gasoline. Crude oil prices rose for the third consecutive week, making the cost to produce gasoline more expensive.
Gas prices nationwide have increased for 20 of the last 23 days, rising 16 cents to Sunday's average of $2.20.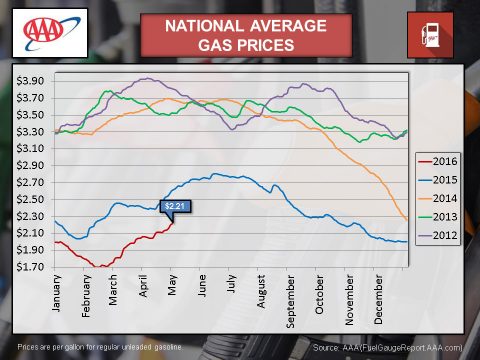 "Gas prices could climb another 8 to 10 cents this week in response to the recent hike in oil prices," said Mark Jenkins, spokesman, AAA – The Auto Club Group. "So far this year, gas prices have been the lowest in seven years, causing Americans to drive more than ever before. This increased fuel demand has pushed oil prices higher, but this upward pressure is in line with seasonal trends, and AAA believes gas prices could peak in June like they did last year."
Drivers are paying 8 cents per gallon more than last week, and prices expected to move higher as driving demand continues to increase. Despite this seasonal movement, prices are 39 cents lower than a year ago and $1.48 lower than this time two years ago, as consumers remain on target to pay some of the lowest prices this summer in recent memory.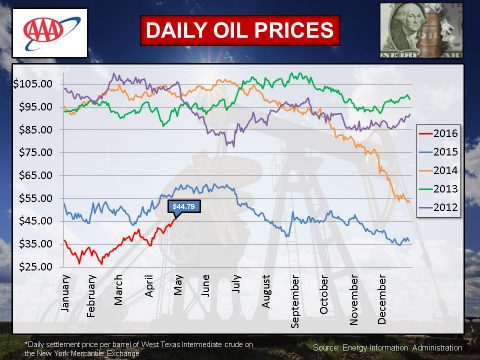 The price of oil continues to be a major factor in prices at the pump. Interruptions in global oil supply and expectations that demand will grow in the coming months are supporting higher crude oil prices.
Expectations are shifting toward the sentiment that global supply and demand will come more into balance; however, market watchers continue to monitor OPEC and U.S. production numbers based on the ability of these factors to heavily influence global oil prices.
Both benchmarks, WTI and Brent, reached new 2016 highs over the past week and have gained approximately 10 dollars per barrel this month. Expectations about the future of oil prices remain mixed. Some analysts believe prices are pushing toward $50.00 a barrel.
Others think the price of crude is following last year's trends and is destined to fall back below $30.00 a barrel before long, which would send gas prices plummeting back to levels seen earlier this year.
Current and Past Price Averages
Regular Unleaded Gasoline
Sunday
Saturday
Week Ago
Month Ago
One Year Ago
Two Years Ago
National
$2.213
$2.208
$2.134
$2.061
$2.598
$3.687
Florida
$2.211
$2.208
$2.078
$2.072
$2.580
$3.725
Georgia
$2.165
$2.162
$2.087
$2.037
$2.487
$3.694
Tennessee
$2.047
$2.041
$1.953
$1.898
$2.390
$3.511
Click here to view current gasoline price averages
AAA updates fuel price averages daily at http://www.fuelgaugereport.aaa.com/. Every day up to 120,000 stations are surveyed based on credit card swipes and direct feeds in cooperation with the Oil Price Information Service (OPIS) and Wright Express for unmatched statistical reliability. All average retail prices in this report are for a gallon of regular, unleaded gasoline.
About The Auto Club Group
The Auto Club Group (ACG) is the second largest AAA club in North America.  ACG and its affiliates provide membership, travel, insurance and financial services offerings to over 9 million members across eleven states and two U.S. territories including Florida, Georgia, Iowa, Michigan, Nebraska, North Dakota, Tennessee, Wisconsin, Puerto Rico and the U.S. Virgin Islands; most of Illinois and Minnesota; and a portion of Indiana.
ACG belongs to the national AAA federation with more than 56 million members in the United States and Canada and whose mission includes protecting and advancing freedom of mobility and improving traffic safety.