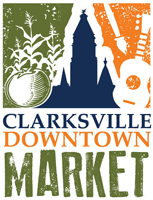 Clarksville, TN – On Saturday, June 18th, Clarksville Parks and Recreation held a Health and Fitness Day at the Clarksville Downtown Market. The Montgomery County Health Department had a booth and were giving out samples and the recipe for Citrusy Pico De Galio.
"A couple of times a year, Parks and Recreation invites us to come down to the Downtown Market and encourage healthy eating habits," said Montgomery County Public Health Director Joey Smith.
The booth was so busy that they ran out of tortilla chips and had to go out for more.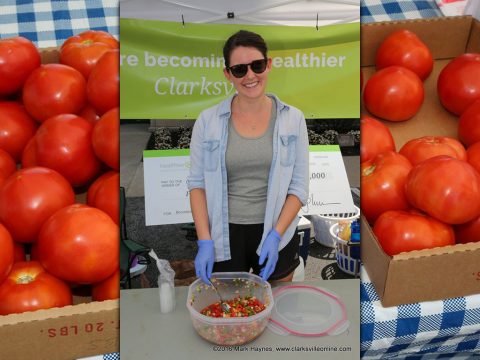 "Today we are demonstrating how easy it is to create a healthy pica de galio using fresh ingredients," stated Montgomery County Health Educator Megan Carroll. "One of the great things about this recipe is that the ingredients can be purchased right here at our Clarksville Downtown Market."
Citrusy Pico De Galio Recipe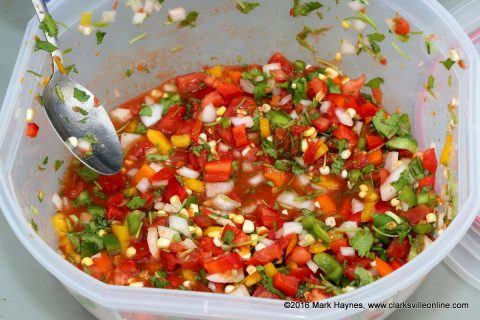 Ingredients
1 each Stop light peppers (red, orange, yellow and green)
1 white onion
2 fresh corn on the cob
Bunch of cilantro
3 fresh, whiole tomatoes
28 oz can of diced tomatoes
Juice of 1 lemon, 1 lime and 1 orange. Add zest of each for additional flavor
Salt to taste (about 1 teaspoon)
Directions
1. Roughly dice peppers, onion, whole tomatoes and cilantro into large bowl.
2. Mix in can of diced tomatoes.
3. Add juice of lemon, lime and orange and any zest if so desired.
4. Add in salt.
5. Enjoy with your favorite tortilla chips or add to meals as a light flavorful side.
Health Benefits of Pico De Gallo
Tomatoes, Red Peppers – Red colored fruits and vegetables contain antioxidants that protect your cells from damage and have heart health benefits.
Corn, Orange and Yellow Peppers – Orange and yellow colored fruits and vegetables are good for your eyes, skin and heart. They also funcion to help your immune system.
Onion – White vegetables can help maintain heart health and maintain healthy cholesterol levels.
Green peppers – Vegetables that are green can lower your risk of some cancers. They can also help protect your vision.
Juice from lemon, lime and orange contain Vitamin C and Folic Acid.
Vitamin C helps with growth and repair body tissues. It also helps keep teeth and gums healthy.
Floic Acid helps the body form red blood Cells.
Consuming a diet reich in fruits and vegetables in an overall part of a healthy diet can reduce the risk of many diseases including heart disease.
Eating foods that are lower in calories per cup rather than eating higher calorie foods may be useful in weight management and lowering calorie intake.
The Clarksville Downtown Market features approximately 70 vendors on hand. They offer local fresh produce, baked goods, local honey, milk, home décor, seasonal flowers and more. It is open from 8:00am to 1:00pm every Saturday through October 8th, 2016 on the Public Square in the City Hall Parking Lot.