Clarksville, TN – Clarksville Police Department responded to gunfire on the parking lot of a Clarksville nightspot on the 400 block of North Second Street at about 2:35am Saturday morning, June 25th, 2016, when an argument over a woman inside a pool hall moved outside and became physical.
Harvey Sanders, a 36-year-old black male Clarksville resident allegedly fired several rounds from a .380 caliber Taurus pistol, striking two people.
Sergeant J. Jackson and Officer T. Edwards, who heard the gunshots from nearby Marion Street, arrived quickly on the scene to find bystanders holding Sanders on the ground.
A 32-year-old female was transported by ambulance with a leg wound to Tennova Medical Center.
The 32-year-old male victim, who had left the scene, was soon located at his Darnell Street residence and life-flighted to Vanderbilt University Medical Center with a gunshot wound that was thought to not be life-threatening.
Detective Tracy Woodruff filed two felony arrest warrants for Aggravated Assault and one warrant for Reckless Endangerment. Sanders was booked into the Montgomery County Jail under a $195,000.00 bond.
Anyone with additional information about the incident is asked to contact Detective Woodruff at 931.648.0656, ext. 5531.
Harvey Sanders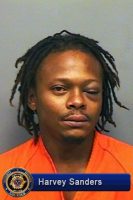 Name: Harvey Sanders
Gender: M
Race: B
Address: Joshua Drive, Clarksville, TN
Arresting Officer: Tracy Woodruff
Charged With: Aggravated Assault, Reckless Endangerment and Contempt
Booked Into: Montgomery County Jail
Bond: $195,000.00