Clarksville, TN – Clarksville Police Detective Channing Bartel is trying to identify a suspect that assaulted a man in the parking lot of the Pinnacle Bowling Alley at 430 Warfield Boulevard, as he waited for a taxi, and is requesting public assistance.
The assault occurred on July 16th, 2016, around 1:30am. The victim was hospitalized with serious injuries.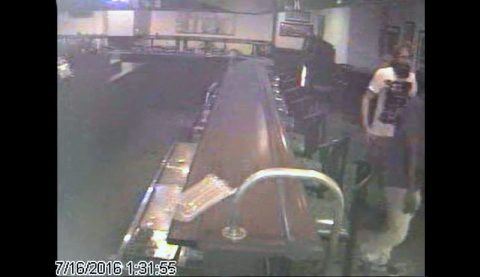 The suspect is a white male and, in the image, is wearing a white shirt. He is approximately 6'1″ to 6'3″ in height, weighing about 200 lbs.
He has a full beard and mustache, his hair is over his shoulders and is in dreadlocks, he has a complete right sleeve of tattoo's, and witnesses stated he had an "Omega" tattoo on the right side of his neck.
If anyone can identify the suspect or has any information related to this incident, please call Detective Bartel at 931.648.0656 Ext 5144, or call the CrimeStoppers TIPS Hotline at 931.645.TIPS (8477). You can also go to the CrimeStoppers website at www.p3tips.com/591